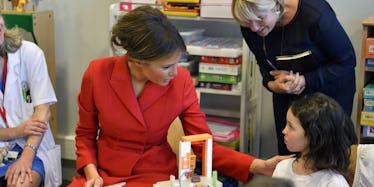 While Trump Awkwardly Meets Foreign Leaders, Melania Visits Children's Hospitals
Aurelien Meunier/Getty Images
President Donald Trump is with his wife, Melania Trump, in Paris.
Trump is meeting with French President Emmanuel Macron, and seems to be a bit out of sorts during this visit.
Perhaps it's linked to his awkward performance at the G20 summit, or maybe it's due to the fact he and Macron have polar opposite views of the world.
It could also be a product of the fact he seemingly has no idea how to behave like a normal world leader.
Trump went to Necker Hospital in Paris on Thursday, July 13, where she reportedly spoke French with sick children.
At the hospital, she was presented with a copy of the The Little Prince, a famous French novel written and illustrated by Antoine de Saint-Exupery, by Martin Hirsch, director of Paris' public hospital system, the Associated Press reports.
In response, Trump said, "I will keep it, practice my French. It's beautiful."
After the visit, the first lady tweeted, "Thank U @hospital_necker for allowing me to visit your wonderful patients & inspirational staff. Continued prayers for good health for all."
This is not the first time the first lady has visited a hospital abroad.
While in Israel back in May, Trump visited Jerusalem's Hadassah Medical Organization, a children's hospital, where she met with young Arab and Jewish patients.
She also visited Bambino Gesu Children's Hospital in Sicily shortly thereafter.
Soon after her visit, the first lady learned one of the young patients she met with would receive a heart transplant, and she celebrated the news on Twitter.
So, even if President Trump isn't the most poised individual as he visits other countries, at least the first lady does her best to spread some goodwill.