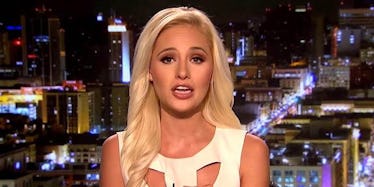 Tomi Lahren Might Be Conservative, But That Doesn't Mean She Doesn't Drink
One America News
As Tomi Lahren prepares to step back into the spotlight on Saturday, July 28, when she'll have a political discussion with Chelsea Handler, there are sure to be people who want to know more about the relatively young political commentator. Who she is, where she's from, what her views are; all of those questions are likely the subject of many a Google search right. In regards to her views, you can be certain Lahren isn't against drinking.
It's pretty well known that Handler, well, enjoys a drink. In fact, she named her book Are You There, Vodka? It's Me, Chelsea. While Handler and Lahren disagree on a lot of different political topics, they might just be able to come together over a drink when they meet at Politicon on Saturday.
When it comes to her views on alcohol, just ask Lahren herself -- or, more specifically, the college version of her. Not too long ago, the internet had a field day after digging up Lahren's old tweets from her days at UNLV.
The tweets were all pretty normal for a college student, but nonetheless hilarious, and concerned the usual topics you'd expect from someone at that age: dating, partying, and, yes, alcohol.
The old tweets got so much attention at one point that, in a Facebook Live video, Lahren addressed their resurfacing. According to Cosmopolitan, she said,
I drank beer when I was 21, oh my gosh. I took shots when I was 21, oh my gosh. And I had fun in college, because, guess what, I'm a human being. I still do that and I'm 24, so if you needed to humanize me, I guess there's your opportunity.
As she said herself, the admission to drinking is nothing special at all. Her explanation, however, of her favorite songs during college; now that were special.
Per Cosmopolitan, she said,
When I was in college, which wasn't that long ago, at UNLV, I had a small group of friends. When we went out, we liked to listen to rap music and one of the songs that my friends particularly enjoyed was a song called "Pop That Pussy." I hate that word and I don't say that word and I would always cringe when they would say that word because it didn't sound right to me. I would instead say, "Pop that p." So it became a thing.
So there's that.