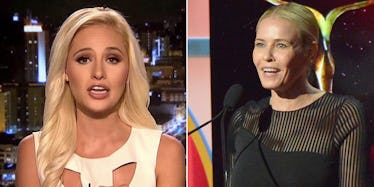 Tomi Lahren And Chelsea Handler Will Debate IRL And We're Getting Popcorn Ready
One America News/ Charley Gallay/ Getty Images
In a political debate that makes perfect sense for these nonsensical times, conservative commentator Tomi Lahren will take on liberal comedian Chelsea Handler, the Daily Beast reports.
The time? The end of this month, between July 29 and 30.
The place? Pasadena, California, which is the site of the third annual Politicon.
The reason? It's not exactly clear, but whatever.
Politicon, which brands itself as the "unconventional political convention," will host an exchange between the two figures within a format that resembles Handler's talk show on Netflix, Chelsea.
A rep for the convention told The Wrap,
[The discussion] will be similar to how she does her Netflix show. She'll act as the host and essentially interview the guest (Tomi), and of course, she'll interject her signature wit and opinions into the conversation.
The conversation will pit two women against each other whose feelings about President Donald Trump couldn't be any more different. Lahren has been an outspoken supporter of the president, and began working for a pro-Trump organization after getting fired by The Blaze TV.
Handler, on the other hand, has been an constant critic of Trump, who has been the subject of many of her monologues on Netflix.
Needless to say, people have are getting their popcorn ready.
Yep, the debate promises lots of entertainment, which is probably the only thing it can offer.
That should be expected at this point, though. We know how these things work.
The last time Lahren sat across a desk from a liberal comedian and got "annihilated," she also asserted her ridiculous ideas about Black Lives Matter being comparable to the Ku Klux Klan.
In other words, expect unreasonable points to be brought to the table, which of course the defeats the purpose of trying to have a reasonable conversation.
But there will definitely be some good laughs, so get ya' popcorn ready.