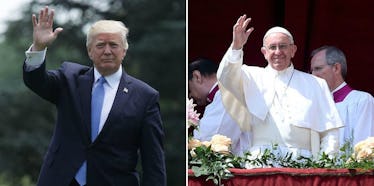 A Timeline Of Trump's Relationship With The Pope As He Heads To The Vatican
Getty Images
President Donald Trump is set to meet Pope Francis on Wednesday during his first trip abroad since he took office.
The two men couldn't be more different in their approach to leadership.
Trump is the type of man to say things like, "I have the best words," and "I'm really rich."
While Pope Francis is more of the type to say, "If money and material things become the center of our lives, they seize us and make us slaves."
In short, one man has made a career out of boasting about his wealth, while the other has sought to uplift the world's marginalized people and promote equality.
This helps explain why the two have butted heads in recent years.
Accordingly, their visit together could be extremely awkward.
For more context, here's a timeline of Trump's relationship with the pope as he makes his way to the Vatican.
Shortly after Cardinal Jorge Mario Bergoglio (now Pope Francis) was elected as the 266th pope in 2013, Trump criticized the pope's modest lifestyle.
But Trump also praised him for being humble a few months later (on Christmas Day).
Things started to go south after Trump became a presidential candidate.
When Pope Francis made his first visit to American in September 2015, Trump was in New York and watching the Popemobile drive by as it made its way to St. Patrick's Cathedral.
According to Randall Lane, a Forbes reporter who was with Trump at the time, many of the pope's fans that were lined up in the street were not huge fans of the future president.
When the crowd spotted him, someone reportedly yelled "Viva Mexico," to Trump's displeasure.
A few months later, in February 2016, Trump was very critical of the pope over a planned visit to the US-Mexico border.
He called Pope Francis a "very political person," adding,
I think that he doesn't understand the problems our country has. I don't think he understands the danger of the open border that we have with Mexico.
Trump made immigration and building a wall along the US-Mexico border a centerpiece of his campaign. Pope Francis preached tolerance for immigrations, which clearly did not sit well with the real estate mogul.
Pope Francis offered a strong rebuke of Trump's plan to build a wall along the US-Mexico border.
As Pope Francis flew back from his trip to Mexico, he made it abundantly clear how he feels about Trump's approach to immigration.
A person who only thinks about building walls, wherever they may be, and not building bridges, is not Christian. That is not in the Gospel.
Trump responded by saying it was "disgraceful" for a religious leader to question his faith.
Still a presidential candidate at the time, Trump also said the pope would regret not supporting his campaign.
"If and when the Vatican is attacked by ISIS, which as everyone knows is ISIS' ultimate trophy," Trump said, "the pope can have only wished and prayed that Donald Trump would have been president because this would not have happened."
Shortly after, Trump retreated a little and said the pope was someone he still had "a lot of respect for." But the detente wouldn't last long.
Pope Francis warned against tyranny a few days before Trump won the election.
Speaking at the World Meeting of Popular Movements at the Vatican on November 5, 2016, just a few days before the US presidential election, Pope Francis said,
No tyranny can be sustained without exploiting our fears. This is clear. All tyranny is terrorist. And when that terror ignited in the peripheries with massacres, looting, oppression, and injustice explodes in the centers in the form of violence, including with hateful and cowardly intent, the citizens who still have some rights are tempted by the false security of walls, physical or social—walls that close some in and banish others.
While Trump was not mentioned directly, the pope's references of walls and the timing of his remarks had many convinced it was aimed at him.
After Trump won the election, Pope Francis asked for "dialogue" and "mutual cooperation."
When asked about Trump on November 11, 2016, Pope Francis said he doesn't "give judgements on people or politicians" but simply wants "to understand what are the sufferings that their approach causes to the poor and the excluded."
As Trump was being sworn in, Pope Francis issued a warning against populism.
In an interview with the Spanish newspaper El Pais, Pope Francis warned against turning to populism amid political crises, as the Germans did with Adolf Hitler in the 1930s.
The pope, who once again mentioned the danger of walls, said,
In times of crisis we lack judgment, and that is a constant reference for me. Let's look for a savior who gives us back our identity and let us defend ourselves with walls, barbed-wire, whatever, from other people who may rob us of our identity. And that is a very serious thing. That is why I always try to say: talk among yourselves, talk to one another.
The pope also said, however, "we must wait and see" how Trump does at president.
The pope and Trump will reportedly try to find common ground when they meet.
As Trump heads to the Vatican, the pope tweeted about the importance of "dialogue."
Pope Francis also recently said he wouldn't judge President Trump without "listening to him first."
In a weekly address last Friday, Trump said, "I look forward to speaking with the pope about how Christian teachings can help put the world on a path to justice, freedom, and peace."
It seems the two leaders will attempt be cordial with one another as they finally meet face to face, even if they continue to share fundamentally different perspectives.
Citations: Trump rips Pope Francis for visiting Mexican border (Politico), The Pope's Closing Argument Against Trump? (The Atlantic)