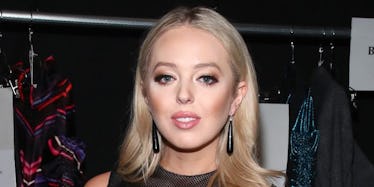 Tiffany Trump's New Life Plans Keep Her Close To Her Father And Ivanka
Getty Images
Tiffany Trump will attend law school at Georgetown University in the fall and will be a member of the class of 2020, which was revealed to DailyMail.com by a spokesperson for the family.
This means the 23-year-old will be close to her father, President Donald Trump, as well as her older sister, Ivanka Trump, assistant to the president, and brother-in-law, Jared Kushner, senior adviser to the president, in Washington, D.C.
Tiffany graduated from the University of Pennsylvania, which also attended by her father, Ivanka and Donald Jr., in May 2016.
Other than Georgetown, she also reportedly looked into studying law at Harvard, Columbia and Jared Kushner's alma mater, New York University.
Georgetown University's law school is one of the best in the country, and is ranked number 15 by US News and World Report.
Tiffany is the first in her immediate family to attend law school, but her brother, Eric Trump, also attended Georgetown University, where he earned a bachelor's degree in finance and management in 2006.
Tiffany's half-brother-in-law (did we get that right?), Jared Kushner, went to New York University for his law degree.
Speaking with DailyMail.com on this development, Eric Trump said,
I am so proud of Tiffany. Georgetown University is a truly amazing school and she is going to love her time in Washington DC.
Eric sits on the sits on the board of The Business, Society, and Public Policy Initiative at the McDonough School of Business at Georgetown, so it seems he's still quite involved with the university.
It's been clear Tiffany Trump wanted to attend law school for quite some time.
Over the summer, she posted a photo to Instagram of LSAT prep books.
Tiffany is the first Trump child not to go immediately into the family business.
Donald Trump Jr. did hint his younger sister might eventually join the Trump Organization.
Based on this recent development, she could conceivably join in a legal capacity at some point.
Citations: EXCLUSIVE - Tiffany Trump goes to Washington: First Daughter will attend law school at Georgetown, joining her dad Donald and big sister Ivanka in the nation's capital (Daily Mail)