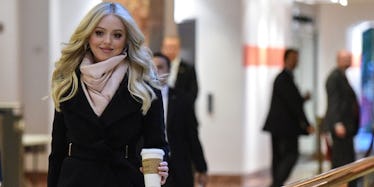 Tiffany Trump's Reason She's Excited To Stay In White House Is So, So Basic
REUTERS
The Trumps have moved into the White House, and Tiffany Trump is especially excited about this for one particular reason: taking lots and lots of Instagram pics with her fellow rich friends.
Indeed, the rich kids of Instagram are invading the residence of the president.
Tiffany, who is 23, will apparently have a room in the White House, and she and her friends are stoked.
According to what a friend of Tiffany's told US Weekly,
[The group] is going to make the White House their new locale. They're ready to up their Instagram game big time.
Because, sure, that's exactly what having a parent in the White House is all about: upping your follower count on social media.
You gotta get something out of it, right? It's not like it's already a massive honor to have your father be the leader of the free world.
In her defense, President Obama took his fair share of selfies. So, you do you, Tiffany.
The US Weekly story also claims the president and Tiffany are "closer than ever."
That's nice to hear, given he said he was proud of her to a "lesser extent" than his other children on Election Day. Father of the year!
Yep, Tiffany and the Donald have had a bit of an awkward public relationship for some time. Remember when she dodged his kiss after one of the presidential debates?
That dodge captured the spirit of a nation. Sadly, however, we did not dodge his presidency.
Tiffany isn't the only Trump child who's excited about her father's new digs.
After the inauguration, Donald Jr. and his family went bowling.
Yes, the White House has a bowling alley. It also has 132 rooms in total, 35 bathrooms — in case you really gotta go — and six levels. In other words, it's YUGE.
Let's hope President Trump keeps his tiny little hands off the curtains. Don't want him getting Cheetos dust everywhere!
Citations: First family settles into White House life (CNN), Tiffany, Barron Trump and Their Siblings: Everything You Didn't Know About the First Kids (US Weekly)