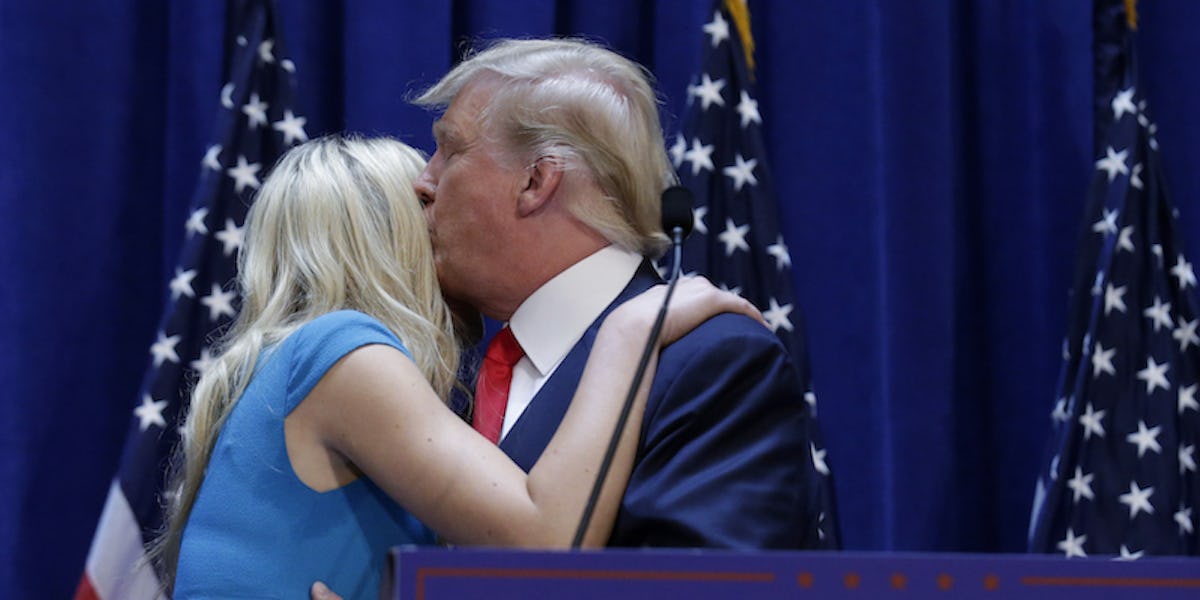 Tiffany Trump Completely Dodged A Kiss From Donald And No One Can Blame Her
REUTERS
Donald Trump says he's apologized to his family over that "pussy" recording, but it looks like his daughter hasn't quite forgiven him yet.
During last night's presidential debate, Tiffany Trump completely dodged a kiss from her father.
A video shows Donald going in for a peck on the cheek and Tiffany leaning back so far it looks like she's in a limbo competition.
She then rubs his arms patronizingly and walks away. Have a look:
When your own daughter won't even kiss you. #debate pic.twitter.com/iKHOSaOqEa — Diane N. Sevenay (@Diane_7A) October 10, 2016
Donald hit a new low when the recording of him "joking" about touching women emerged.
During the debate, he was asked if he understood that what he was talking about at the time constitutes as sexual assault.
Anderson Cooper told the presidential hopeful,
We received a lot of questions online, Mr. Trump, about the tape that was released on Friday, as you can imagine. You called what you said locker room banter. You described kissing women without consent, grabbing the genitals. That is sexual assault.
He deflected the question by saying he will "knock the hell out of ISIS." Donald said,
This was locker room talk. I'm not proud of it. I apologize to my family, I apologize to the American people. When we have a world where you have ISIS chopping off heads and drowning people in steel cages, where you have wars and horrible, horrible sights all over, where you have so many bad things happening -- this is like medieval times. We haven't seen anything like this, the carnage all over the world. Can you imagine the people who are frankly doing so well against us and they look at our country and yes, I'm very embarrassed by it, I hate it, but it's locker room talk, and it's one of those things. I will knock the hell out of ISIS.
...We know.