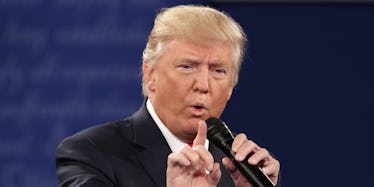 Trump Using ISIS To Defend His 'Pussy' Comment Will Make You Laugh And Cry
REUTERS
During the second presidential debate on Sunday night, moderator Anderson Cooper asked Trump about his extremely controversial statements involving predatory behavior and women that was revealed in a video released on Friday.
In the video, Trump said because he's a "star" he can do anything he wants to women, including grabbing them "by the pussy."
This video has led to widespread condemnation and led many Republican leaders to withdraw their support for Trump's campaign.
Anderson Cooper rightly pointed out that what Trump said constitutes sexual assault. He said,
We received a lot of questions online, Mr. Trump, about the tape that was released on Friday, as you can imagine. You called what you said locker room banter. You described kissing women without consent, grabbing the genitals. That is sexual assault. You brag that you have sexually assaulted women. Do you understand that?
Trump replied,
No, I didn't say that at all. No, I didn't say that at all. I don't think you understood what was said. This was locker room talk. I'm not proud of it. I apologized to my family. I apologized to the American people... You know what? We have a world where you have ISIS chopping off heads, where you have men frankly drowning people in steel cages, where you have wars and horrible, horrible sites all over where you have so many bad things happening, this is like medieval times, we haven't seen anything like this -- the carnage all over the world -- and they look and they see... Yes, I'm very embarrassed by it. I hate it. But it's locker room talk and it's one of those things. I will knock the hell out of ISIS, we're going to defeat ISIS. ISIS happened a number of years ago in a vacuum that was left because of bad judgment and I will tell you I will take care of ISIS.
So, yeah, Trump basically just answered a valid question regarding whether he committed sexual assault by arguing ISIS is worse and he will defeat it.
This generated a lot of conversation on Twitter.
People have responded with a mixture of amusement, confusion and sadness.
Indeed, Trump seems to be incapable of taking responsibility for any of his controversial remarks or actions.