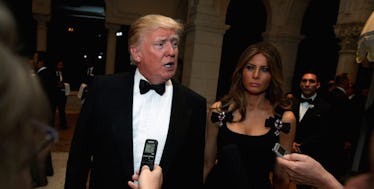 Genius Teens Are All Doing The Same Thing To Avoid Donald Trump's Presidency
REUTERS
When Donald Trump was elected president of the United States, a lot of people had the same thought: Well, gosh, I don't think I want to be in the United States anymore.
Adults across America said they would move to Canada, and Canadians made jokes about building a wall along their southern border.
Many immigrants in the United States worried about their status in the country. Meanwhile, people in foreign countries considering moving to America suddenly reconsidered. And older teenagers didn't want to stay in the United States quite as much as they used to.
In fact, colleges in Canada reported they have been seeing a surge in interest from the United States ever since Election Day.
The University of Toronto had a 70 percent increase in applications from Americans from last year. McMaster University in Ontario had a 34 percent increase in US applications.
Stephen Dunnett, vice provost for international education at the University at Buffalo, told the Associated Press,
I think everybody in international education is a little uneasy, in part because some of the rhetoric in the campaign frightened people overseas. It's going to be perhaps a little bit rocky for a couple of years.
On top of the increase in applicants to Canadian schools from the United States, recruiters believe foreign students are starting to avoid American schools.
Lara Godoff, a teenager from California, told AP she ended up applying to four colleges in Canada after the election because she was worried about American colleges under Trump.
She said she is especially worried that campuses will become less safe, since the misogynist who has threatened the dozen women who accused him of assault is taking lead of the country.
Godoff said,
If we live in a country where so many people could elect Donald Trump, then that's not a country I want to live in.
Not to mention, as my friends who went to McGill reminded me constantly: The drinking age in Quebec is 18.
Citations: College in Canada? After Trump's win, more in US consider it (Associated Press), Donald Trump threatens to sue sexual assault accusers after election (CBS)