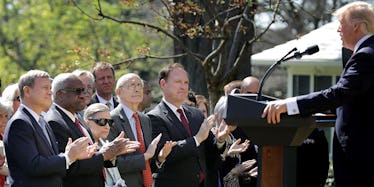 This Is How The Supreme Court Is Involved In A President's Impeachment
Chip Somodevilla/Getty Images)
It's no wonder why the question of how exactly a president gets impeached is a point of curiosity this year.
In Congress, four separate investigations are being conducted in relation to Russian efforts to manipulate the American electoral process.
The FBI has it's own as well. At the head of that particular investigation is former FBI director Robert Mueller. Furthermore, the only reason the head of that investigation is the former director and not the current director is because there is no current director, since President Donald Trump fired him.
And it just so happens that at the center of all these investigations is a question of whether Trump had any role in the Russian efforts himself, particularly considering the fact American intelligence agencies claim the Russians acted to help the president win his election against Hillary Clinton.
To be clear, none of this means there's a significant chance the president will get impeached, especially not before the year 2018.
The number of Republican congress members versus the amount of Democratic members just makes that event very unlikely, before a potential switch of power after the next midterm elections.
However, with politicians publicly speaking about impeachment and Mueller examining whether President Trump committed obstruction of justice, the subject of impeachment is within the realm of possibility just enough to prompt interest around the process.
If you're wondering whether the Supreme Court has a role in that process, the answer is yes.
If you're wondering whether the Supreme Court itself can impeach a president, the answer is no.
A president can only be impeached by a series of votes in the U.S. House of Representatives. If a straight majority of representatives vote for impeachment, the president then faces a trial before the Senate.
Mind you, the question of whether the Supreme Court can remove the president is altogether a different question. The act of impeachment itself prompts the trial.
Further, the trial is the point at which the Supreme Court becomes involved, in part. While the Senate acts as jury, the role of judge is assumed by the Chief Justice of the United States -- currently John Roberts, a George W. Bush appointee.
And that's it.
So, no, the Supreme Court cannot impeach a president. Does it play a part in the process that impeachment triggers, however? Technically, yes.