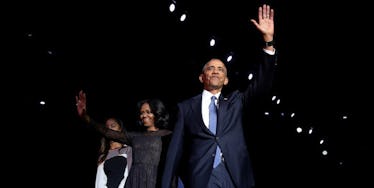 Story Behind 'Yes We Can' Slogan Proves Obamas Are The Ultimate Power Couple
REUTERS
Barack Obama, president of the United States, boasted the words confidently on January 10 during his farewell address: "Yes we can!"
But 12 years ago, Barack Obama, Illinois state senator and US Senate candidate, wasn't so sure about this slogan. According to David Axelrod — Obama's campaign media adviser in 2004 — Obama expressed doubts during the taping of a campaign ad and asked,
'Yes we can.' Is that too corny?
David Axelrod, author of "Believer: My Forty Years in Politics," claims in his book that Obama wasn't set on keeping those famous three words back then.
That's when Obama turned to his wife, who had an hour of free time, as the Washington Post details, and was able to attend the taping.
When Barack asked Michelle about the slogan, she had a simple reply: "Not corny."
Axelrod wrote,
That was enough. My reassurance had left Obama still wondering, but he deeply trusted Michelle's instincts and connection with people. Her imprimatur immediately sealed the deal, preserving a tag line that would become our rallying cry in this and future campaigns.
The show went on, the ad hit the air, Obama won the senate seat and "yes we can" became a favorite slogan.
On January 10, at the end of his farewell address in Chicago — the same way Michelle Obama helped convince him to end the ad 12 years ago — President Obama told the audience at McCormick Place,
I am asking you to believe. Not in my ability to bring about change, but in yours. I am asking you to hold fast to that faith written into our founding documents, that idea whispered by slaves and abolitionists, that spirit sung by immigrants and homesteaders and those who marched for justice, that creed reaffirmed by those who planted flags from foreign battlefields to the surface of the moon, a creed at the core of every American whose story is not yet written: Yes, we can. Yes, we did. Yes, we can.
It was an ending that might not have been possible without Michelle Obama.
Citations: Obama's 'Yes We Can' almost didn't happen. You can thank Michelle for saving it. (Washington Post)