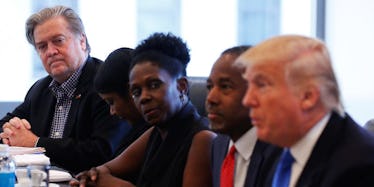 Breaking Down The Shady Pasts Of All The People Who've Run Trump's Campaign
REUTERS
Donald Trump has said that as president, he would only hire the "best people."
When you take a look at whom he's picked to help run his campaign, however, it's hard to take his word.
He's gone through campaign managers almost as often as he's gone through wives.
And it's not just the people running Trump's campaign who are so horrible; the people speaking on behalf of him are also dubious characters.
Take Katrina Pierson, for example, the Trump spokeswoman who continuously gets her history confused in major ways on national television.
She blamed President Obama for the death of Captain Humayun Khan, an American soldier who died in Iraq.
But Khan died in 2004, a long time before Obama was president. Not to mention, President Obama was very vocal about his opposition to the war in Iraq.
Pierson also blamed Obama for the invasion of Afghanistan, in spite of the fact President George W. Bush started that war in 2001 while Obama was still a state senator in Illinois.
We also can't forget Michael D. Cohen, a lawyer for the Trump organization, who famously said, "Says who?" when CNN anchor Brianna Keilar mentioned Trump was down in the polls. (Answer: "all of them.")
Moreover, Trump's current campaign manager, Kellyanne Conway, who only recently took over, was lambasting Trump on everything from his business record to his offensive rhetoric just a few months ago.
But, the worst hires Trump has made for his campaign are arguably Corey Lewandowski, Paul Manafort and Stephen Bannon.
Let's breakdown why:
Corey Lewandowski
Corey Lewandowski was Trump's campaign manager until June, when he was fired.
Lewandowski, who once got arrested after he brought a gun into a House office building as a congressional aide, and then sued unsuccessfully to get it back, was always an interesting choice for Trump.
He generated a great deal of controversy after he forcibly grabbed Michelle Fields, then a reporter for Breitbart News, as she approached Trump in Florida back in March.
Lewandowski was eventually charged with battery for the incident, but the charge was later dropped.
He's now a commentator on CNN, where he continues to advocate for Trump.
Paul Manafort
Paul Manafort essentially took over Trump's campaign after Lewandowski was fired, but his tenure was very short-lived.
He resigned as Trump's campaign chairman in August. Manafort was reportedly asked to do so amid controversy over his past work in Ukraine and ties to pro-Russian interests.
Before jumping on the Trump train, Manafort had a long history of consulting or lobbying for contentious foreign leaders and oligarchs, including former Philippine dictator Ferdinand Marcos and Viktor Yanukovych, the former pro-Russian president of Ukraine.
Stephen Bannon
Stephen Bannon is currently Trump's campaign CEO. With Manafort's departure, he and Kellyanne Conway are more or less running the show.
Bannon is also the head of Breitbart News, a conservative news website.
In 1996, Bannon was charged with domestic violence against his second wife. He pleaded not guilty, and the charges were eventually dropped.
The police report for the incident shows his ex-wife said he grabbed forcibly at her wrist and neck.
What's more, The Guardian just uncovered Bannon is registered to vote at a vacant house in Florida, a crucial swing state. This appears to be a violation of election laws.
So, when it comes to hiring people to manage his campaign, Trump appears to prefer those with ties to assaulting women, election law violations as well as those who have aided dictators.
Are they really the "best people" he could find?