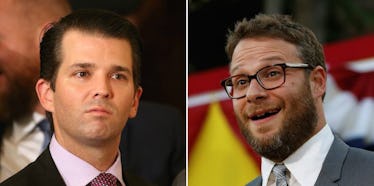 Seth Rogen DMs Trump's Son With Genius Plan To Get Him To 'Stop All This'
REUTERS
Seth Rogen is not a big fan of President Donald Trump.
He has not been quiet about it, either.
Rogen's Twitter feed is full of criticism of the president and retweets of alarming things Trump has said.
But on Thursday, February 16, Rogen realized he actually did have a direct way to contact the president.
Trump's son, Donald Trump Jr. (the not-blonde one) actually follows the comedian on Twitter. Based on Trump Jr.'s Twitter page, he followed Rogen a long while back, right after he followed some accounts about crossbow hunting.
The Trump son follows about 1,000 people on Twitter. It's a mix of comedians, hunting-related accounts and people involved in his father's administration and campaign.
With this realization, Rogen had an idea.
He tweeted at the president's son to "ask your dad to resign before he destroys the planet."
Then Rogen took it a step up on Donald Trump Jr.'s Twitter.
Because Trump Jr. follows him, Rogen can direct message him — so that's what he did.
The message to Trump Jr. says his father is "trying to discredit our media, collude with Russia, and destroy the environment."
Because of this, Rogen has a request. He wrote,
It would be super cool of you to be like 'yo, dad, why don't you stop all this and go back to being just a guy on TV.'
Rogen says that would leave a "majority of the world pretty psyched."
After sending that DM, Rogen had one more request for Trump Jr.
He DM'd him a second time.
This DM is about Michael Flynn, Trump's national security adviser who resigned on Monday night because of his covert interactions with Russia.
Rogen asks Trump Jr. to talk to Representative Jason Chaffetz, chairman of the United States House Committee on Oversight and Government Reform, about investigating Flynn.
The comedian wrote,
Chaffetz [...] should probably investigate Flynn's connection to Russia because he got fired over it. Thanks man!
Chaffetz has said he will investigate the Flynn situation... to see who leaked information about Flynn to the media and public.
Trump Jr. has not yet responded to Rogen's DMs, as far as we know.
Citations: @SethRogen (Twitter)