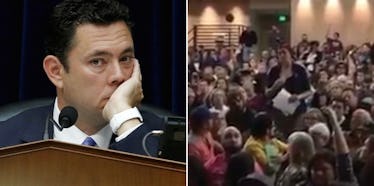 Woman Confronts Congressman On Cutting Planned Parenthood In Emotional Video
REUTERS / Twitter
Representative Jason Chaffetz did not get a hearty welcome at a town hall outside of Salt Lake City, Utah, on February 9.
The Congressman — who serves as chairman of the United States House Committee on Oversight and Government Reform and is known for lengthy investigations into Planned Parenthood and the emails of Hillary Clinton, hosted the town hall to hear from his constituents.
And, oh boy, the citizens of Utah had some things to say.
The high school gymnasium quickly reached its capacity and hundreds were left waiting outside.
Chaffetz entered to loud boos, which did not let up throughout the event. He faced chants of, "Do your job," as topics ranged from healthcare, to the environment, to Donald Trump's tax returns.
By some accounts, Chaffetz left the town hall 40 minutes earlier than planned.
Shannon Black was one of the people who stood up to ask Chaffetz about his policies.
Black explained she received abnormal results on a routine pap smear in her 20s, which could be an indication of cancer.
Because of those results and her family history of cancer, she was told it was "imperative" to get yearly screenings to "catch those cells if and when they turned cancerous."
Years after the initial test, Black was a single mother of three working two jobs with no health insurance.
Despite those struggles, she said,
I was actually able to keep receiving those vital yearly screenings because of my town's Planned Parenthood.
The Utah crowd erupted into cheers.
Because of the annual Planned Parenthood screenings, Black said she managed to graduate college summa cum laude.
But that also — and far more importantly — that my children were able to continue to grow up with a mother.
After explaining her story, she had one simple question for Chaffetz.
She asked,
So, sir, can you please tell me, explain to me, why you are trying to take that vital health provider away from women like me, especially in light of the new reports that indicate that community health centers will not be able to fill the gap should Planned Parenthood close?
As Black said, it has been long reported that community health centers would struggle to take up demand if Planned Parenthoods were to close.
Vox reported in 2015 that based on research,
Higher-income women will find alternatives. But a sizable minority of Planned Parenthood's patients, particularly low-income women, would lose access to medical services.
Chaffetz began his response by not addressing Black's question.
He explained he lost both parents to cancer. He began talking about his wife, but the crowd interrupted him with shouts to answer the specific question about Planned Parenthood.
Chaffetz said there was "no decency" in the room and proceeded to say that community health centers would fill Planned Parenthood's void, should it be defunded.
That answer was met with boos.
Citations: Hundreds grill Rep. Jason Chaffetz at Utah town hall while more protest outside (AP), Rowdy crowd meets Chaffetz at town hall in Cottonwood Heights (Daily Herald Extra), "Do Your Job!" Hundreds of People Shout Down Jason Chaffetz Over Lack of Trump Probe (Mother Jones), Community health centers would be hard pressed to take over for Planned Parenthood (Daily Press), Stat check: No, women couldn't just "go somewhere else" if Planned Parenthood closed (Vox), Jason Chaffetz vows to continue Clinton email investigation (CNN), Hundreds grill Rep. Jason Chaffetz at Utah town hall while more protest outside (Chicago Tribune)