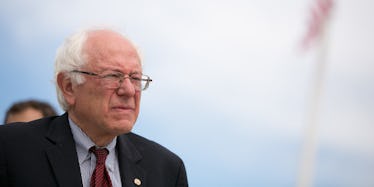 This Senator May Have Just Won Millennials With A Plan For Free College
Getty Images
Vermont Senator Bernie Sanders introduced a bill in the Senate that has Millennials everywhere rejoicing.
The independent senator and democratic presidential candidate introduced the College of All Act, legislation that would make undergraduate tuition at any four-year public college free for Americans who meet admission standards.
The plan also includes an expansion of work-study programs at private universities and a reduction in federal loan interest rates.
He also outlined in a Reddit AMA that the plan includes cutting student debt in half.
But will it work?
The bill obviously will have some trouble passing through the very much Republican-controlled Congress, but it boldly puts Sanders on the 2016 radar, particularly among Millennial voters, and encourages frontrunner Hilary Clinton to speak out on her own education plans.
Sanders, a self-described socialist, says his plan would cost about $70 billion per year, about $10 billion more than Obama's proposal for free community college introduced earlier this year, according to the Washington Post.
Two-thirds of the cost would be covered by the federal government through imposing a "Robin Hood Tax" on Wall Street, with the rest being covered by states.
The plan isn't totally unheard of. In a statement, Sanders points out other countries like Germany, Denmark, Finland, Norway and Sweden all offer free tuition, along with Chile, which has plans to implement free tuition next year.
He also praises US education systems like the University of California's system, which didn't begin charging tuition until the 1980s, and the City University of New York, which did not charge tuition in 1965.
Whether it works or not, according to Mic, it's an issue that resonates deep among Millennials and will have them paying more attention, with the cost of college up 1,226 percent and student debt at $1.16 trillion.
Mic also notes the average debt for 2015 graduates is $35,000 per student.
But if it doesn't work out for Sanders, he did hint at his support of marijuana legalization on Reddit.