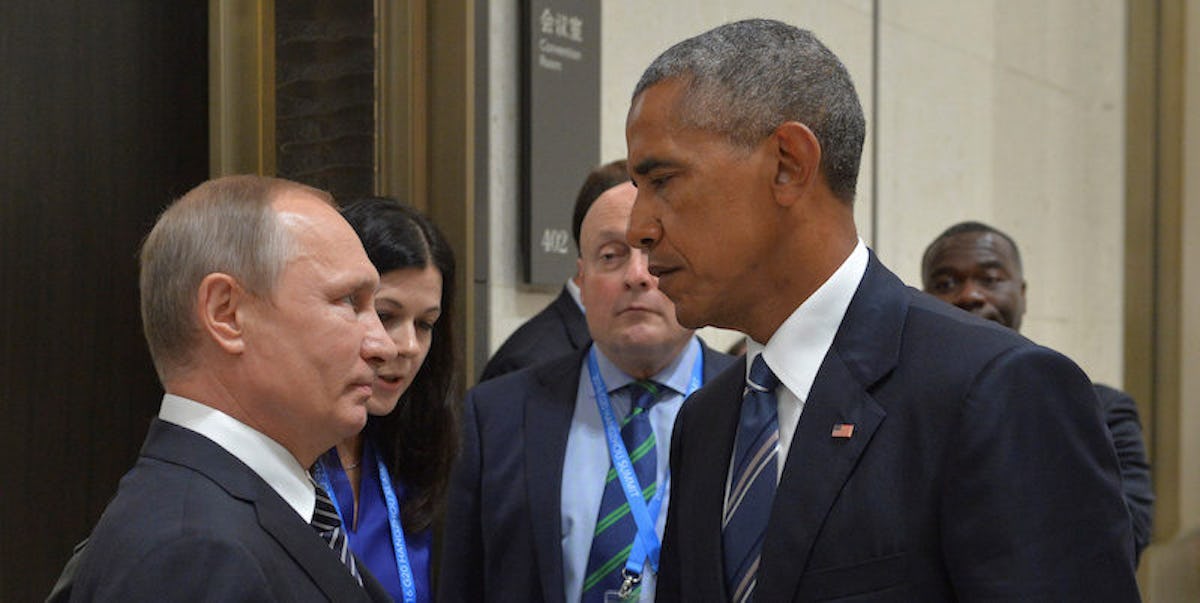 Russia Tries To Fight US With Twitter Meme Since That's How Politics Work Now
REUTERS
The relationship between the US and Russia is very strained right now.
In response to Russia's attempts to influence the US election, President Obama expelled 35 Russian diplomats, giving them 72 hours to leave.
The president also imposed sanctions against Russia's top intelligence agencies.
And how did Russia respond?
With a meme.
Yes, a meme.
This is what international relations has come to: Countries are trolling each other via Twitter.
What's more, on Friday morning, Russian President Vladimir Putin said he would not be expelling 35 US diplomats from Russia, in spite of the fact his foreign minister, Sergei Lavrov, recommended he do so.
In a statement on the Kremlin's website, Putin said,
We regard the recent unfriendly steps taken by the outgoing US administration as provocative and aimed at further weakening the Russia-US relationship. This runs contrary to the fundamental interests of both the Russian and American people. Considering the global security responsibilities of Russia and the United States, this is also damaging to international relations as a whole... Although we have the right to retaliate, we will not resort to irresponsible 'kitchen' diplomacy but will plan our further steps to restore Russian-US relations based on the policies of the Trump Administration. It is regrettable that the Obama Administration is ending its term in this manner. Nevertheless, I offer my New Year greetings to President Obama and his family. My season's greetings also to President-elect Donald Trump and the American people.
For now, it seems Putin is content to retaliate through tweets, including one that invited the children of US diplomats in Russia to the Kremlin's holiday celebrations.
Trololol.
It also looks like Putin will be sending the expelled diplomats back to Russia in style.
Instead of lashing out at President Obama and the US, it seems Putin is relatively content to do nothing until Donald Trump takes over.
Trump's disposition toward Putin and Russia couldn't be more different than President Obama's. Throughout his campaign, he signified a desire to improve US-Russian relations.
He also nominated Exxon Mobil CEO Rex Tillerson, a close associate of Putin, to be secretary of state.
Many have been critical of this move from the president-elect, particularly since he nominated Tillerson shortly after it was reported the CIA had concluded Russia interfered in the election in order to improve Trump's chances of winning.
The relationship between the US and Russia is arguably at its lowest point since the Cold War. Trump is poised to change this dynamic dramatically.
Whether this will be good or bad for the US and the world remains to be seen.
Citations: Obama expels 35 Russian diplomats in retaliation for US election hacking (The Guardian)