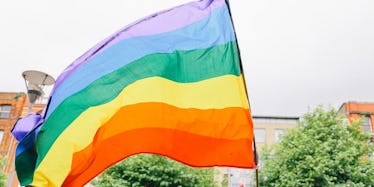 L.A. Hosts Resist March In Place Of Gay Pride Parade, And Twitter Responds
Hex
The annual Gay Pride Parade in Los Angeles was replaced with a Resist March this year, and the changed has conjured up a lot of feelings, particularly on social media. According to Reuters, the 3-mile walk will bring together groups like GLAAD, Planned Parenthood, Black Lives Matter, and the American Civil Liberties Union, among others.
Stephen Macias, a spokesman for the organizers, commented on the need for change. He said to Reuters, "This was not the year for parades. This was the year to take to the streets and march. The march is still about celebrating our community but its also about recognizing the climate we live in and the delicate balance around civil rights."
Many on Twitter showed their support for today's march.
People on social media captured the positive turnout at today's event — and the positive feedback.
Some marchers added a bit of humor and creativity while fighting for their cause.
We can't help but gather the best signs from a march. You know you want to see these.
However, some took to social media to air their grievances with the Resist March.
According to Reuters, people weren't happy that politics got in the way of the annual Gay Pride Parade.
Despite political viewpoints, there are certainly ways to celebrate diversity during Pride Month that focus on humanity above all.
Watching films with positive LGBTQ+ views is one way to celebrate this June. Attending various events throughout the country, like the Family Equality Picnic today in New Orleans or the 36th annual Front Runners New York (FRNY) Pride Run on June 24 is a great way to show support.
If you're unable to travel, looking at these sweet pups supporting LGBTQ+ rights is also a wonderful way to commemorate Pride Month.
Regardless of beliefs, let's remember that love is love.
Follow #ResistMarch for more updates on the event.