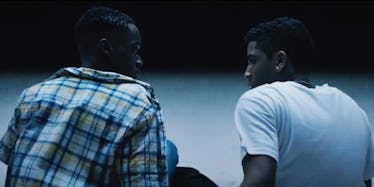 15 LGBTQ+ Films That Deserve A Whole Movie Night This Pride Month
Moonlight
Celebrating Pride Month doesn't mean you have to spend a bunch of money road-tripping to major cities for parades.
Kick it old school this June by throwing a classic movie night, and enjoy some films — both iconic and unsung — that highlight LGBTQ+ people and their stories.
From hilarious comedies, to heart-wrenching dramas, all the way to thought-provoking documentaries, there are plenty of films to choose from. All you need is great wine, great friends, and your laptop.
These are the 15 LGBTQ+ films that deserve to be the main attraction at your next home soirée this Pride Month.
1. Boys Don't Cry
This 1999 film, starring Hilary Swank, tells the true story of Brandon Teena — a trans man who was raped and murdered for being transgender. The film follows his transition, and how he navigated his family and romantic life.
Keep the tissues nearby, because this story is as tragic as it is important. Even though the film came out nearly two decades ago, it still manages to capture the struggles that many trans people still face today.
The film is available on YouTube for $2.99.
2. Holiday Heart
This film follows the title character, Holiday Heart (Ving Rhames), a drag queen who recently lost his partner, Fisher, to an unspecified death.
He welcomes a drug-addicted single mom and her daughter into his home to save them from domestic violence at the hands of the mom's boyfriend. The mother and daughter end up bringing plenty of trouble, though they also bring a lot of joy to Holiday Heart as he copes with the death of his slain love.
You can watch the full film on YouTube for free.
3. Bessie
The 2015 HBO film starring Queen Latifah is a biopic of the late, great blues singer, Bessie Smith.
The film follows her groundbreaking career in the music industry, her experiences with racism and sexism in the south, and her romantic relationships with both men and women.
The film is available on YouTube via HBO for $9.99.
4. Pay It No Mind - The Life And Times Of Marsha P. Johnson
If you want to learn about one of the pioneers of the historical Stonewall Riots, then you need to watch the documentary on Marsha P. Johnson, who was one of the first trans women to resist on June 28, 1969 when the riots began.
The documentary discusses not only the riots, but also Johnson's experiences with homelessness, fighting for trans youth, and her mysterious death in the Hudson River.
The doc is available for free on YouTube.
5. Pariah
Pariah tells the story of 17-year-old Alike, a Brooklyn teen trying to explore her sexuality while simultaneously coping with an unaccepting family.
The film is available on Netflix.
6. Brokeback Mountain
The film, starring Jake Gyllenhaal and the late Heath Ledger, explores the relationship between two cowboys who love each other, but keep their relationship a secret.
Watch it for $2.99 on YouTube.
7. Paris Is Burning
This 1990 documentary chronicles the epic '80s drag scene in New York City.
Watch the doc in full on YouTube for free.
8. Moonlight
The Oscar-winning film follows young Chiron from childhood to adulthood as he struggles to accept his sexuality, endures heart-crushing neglect from his mother, and battles to survive poverty.
The coming-of-age story has many layers that have to be peeled back with more than one viewing.
The film is now available on Netflix.
9. Still Black: A Portrait Of Black Trans Men
The films depicts the unique struggle that six black trans men experience due to their race, gender, and sexual orientation.
You can find the documentary by visiting its title website.
10. Stud Love
Stud Love is about two wedding photographer besties — a black butch woman, JJ, and a gay white male, Seb — whose friendship is tested when JJ falls in love with a "diva."
Though these two aren't discovering their sexuality in the film (they're both already very clear on that), they are learning about the true meaning of love, and how to navigate it.
Watch this film on YouTube for $1.99.
11. My Beautiful Laundrette
The 1985 film, which is set in London, is about a young Pakistani man, Omar, who is attacked by a group of racists.
When he finds out the leader of the gang is a former flame of his, they rebuild their relationship and work on developing the laundry business that Omar's uncle left him.
Watch this movie in full on YouTube for free.
12. She Hate Me
With Scandal front woman, Kerry Washington, and Anthony Mackie leading the cast, She Hate Me tells the story of an executive who lost his job after exposing the company's shoddy business practices.
He begins making money by getting wealthy lesbians who want to raise children pregnant — one of whom is his ex-girlfriend, played by Washington.
Catch this Spike Lee joint in its grainy version on YouTube, or order the DVD on Netflix.
13. Change
Change follows Jamie, a gay African-American male, who confronts his sexuality and his politics on the day that former President Barack Obama is elected in 2008.
Watch this film here.
14. Blue Is The Warmest Color
This film tells the love story of a French teen who falls for an older, blue-haired art student that she met at a bar.
Careful with this one, because it's completely in French.
You can watch it in French on YouTube, or order it via DVD on Amazon so that you can watch it with subtitles.
15. Philadelphia
You'll be crying your eyes out, but this 1993 movie is a classic.
Denzel Washington and Tom Hanks star as lawyers who fight together against a company who fired Hanks' character for having AIDS. The catch is, Washington is homophobic himself, and very misguided on the nature of Hanks' disease. The case proves to be a learning curve for him and the company he goes up against on his client's behalf.
Watch the full movie for $2.99 on YouTube.
Grab some popcorn and prepare to have a movie night that your friends will thank you for.
Happy Pride Month!