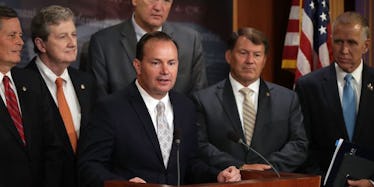 Republican Senator Reportedly Caught Texting About How Bad A Health Care Bill Is
Chip Somodevilla/Getty Images
On Tuesday, July 25, Senate Republicans voted to open up debate on health care reform as part of their long effort to repeal and replace the Affordable Care Act (aka Obamacare). The vote narrowly passed, with Vice President Mike Pence delivering the tie-breaking vote. Prior to the vote, as Republican Senator Mike Lee of Utah was on his flight from Salt Lake City to Washington D.C. on Monday, July 24, a passenger who reportedly sat next time him saw Mike Lee sending texts bashing the GOP health care bill, Politico reports.
According to Politico, although Lee ended up voting "yes" to open up debate on repeal, his office didn't dispute the texts, all of which are very telling about the chaos surrounding the GOP's attempts at health care reform.
In one of the texts, Lee reportedly said he was considering voting to open debate on Obamacare, but that it was "still too early to do so in good conscience because we're not being told anything."
In another message, Lee reportedly said it was "dangerous and potent" for the Republican leadership in the Senate to push for passing "something, anything."
A spokesman for Lee told Politico about the reported texts,
We are not going to authenticate any of these statements; doing so would only encourage the most boorish, voyeuristic behavior in an already too-uncivil town. Sen. Lee has been having honest discussions with people in the White House and Senate about health care. If one narrow part of one of those conversations was observed by a third party, it would only show how thorough the senator has been in his deliberations.
Elite Daily reached out to Lee's office about the reported texts, and they referred us to the statement given to Politico.
For context, Republicans don't yet have a clear plan for repealing and replacing Obamacare.
Plans they've put forward in both the House and Senate in the past several months have been wildly unpopular and have the potential to leave millions without health insurance, based on reports from the Congressional Budget Office (CBO).
The CBO estimated the health care bill pushed by Republicans in the Senate, the Better Care Reconciliation Act, would leave 23 million without health insurance by 2026.
Senate Republicans failed to push this bill through, and also failed not longer after when they attempted to repeal Obamacare without a replacement.
Due to the troubles they've had in gaining support, the Republican leadership in the Senate is reportedly considering a "skinny repeal" bill, which would end the controversial Obamacare mandate that requires individuals to purchase insurance and reduce taxes on the health care industry, according to Vox.
In another text about this entire debacle, Lee reported wrote, "This bill is nothing more than bailing out insurance companies with a few minor reforms thrown in for good measure."
It's not entirely clear what version of the bill Lee was talking about in that text, given this whole effort has been complicated.
But it just goes to show what a mess this has been and the struggles Republicans face moving forward as they seek to undermine former President Barack Obama's greatest legislative achievement.
This is also a good reminder that if you're a senator on an airplane, you might want to be more discreet about what you're texting. The American people have eyes everywhere.