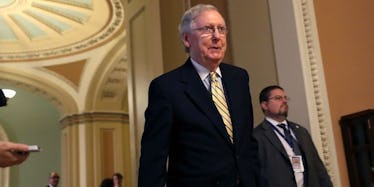 10 Tweets That Explain Why The Senate Health Care Vote Is So Controversial
Justin Sullivan/Getty Images
Republicans have been fighting to repeal and replace the Affordable Care Act (aka Obamacare) for years, and they're continuing that effort in the U.S. Senate on Tuesday, July 25. The GOP's long struggle to undo Obamacare has been complicated, especially recently. If you've struggled to follow along, that's completely understandable.
The vote on July 25 is not on a specific health care bill, but on whether to open debate on health reform.
Here are 10 tweets that breakdown what's going on.
Senate Republicans are voting on whether to open debate on a plan to repeal and replace Obamacare, but don't have specifics on what that plan is or how it would impact the country.
If this sounds strange, that's because it is.
Senate Majority Leader Mitch McConnell has been accused of rushing the process without regard for the impact it would have on Americans. In other words, this reeks of desperation.
Health care bills put forward in the past few months by Republicans in the House and Senate were projected to take health care aware from millions of Americans.
Republicans passed a health care bill in the House in May, but failed to push one through the Senate.
The Congressional Budget Office (CBO) projected the House version would leave 23 million without health insurance by 2026, and estimated 22 million would lose health care under the Senate version.
If the GOP wins support for opening debate on health care reform, they are expected to vote on more than one version of health care legislation, The Washington Post reports.
This includes a plan to repeal Obamacare without a replacement plan in place, which is highly unpopular and expected to fail.
Republicans are hoping to gain support for a scaled-down version of the bill that recently failed to gain traction in the Senate.
This is being referred to as a "skinny repeal" measure, according to Vox, and it would eliminate Obamacare's controversial mandate that requires individuals to buy health insurance. It would also reduce taxes on the health care industry.
But, as Vox notes, experts fear repealing the individual mandate could send Obamacare into disarray. Relatedly, the CBO estimated such a move would leave 15 million without health insurance in the next decade.
Republicans need 50 votes to open debate on health care reform.
Senator John McCain, who was recently diagnosed with brain cancer, announced on Monday, July 24, that he would come back to the Senate to vote.
This is a big deal, given the current break-up of the Senate is 52-48 (Republicans have the majority), and the GOP could only afford to lose two votes.
President Donald Trump is putting a lot of pressure on Republicans.
Meanwhile, Senate Democrats are decrying what they view as an attack on Obamacare and the well-being of Americans.
Many seem to feel Republicans are so set on undoing former President Barack Obama's legacy, they don't care what impact it will have on the country.