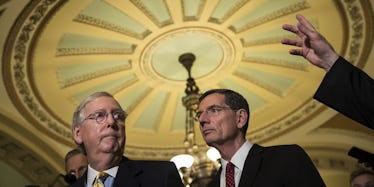 The Republican Senate Health Care Bill Is Dead, Long Live Obamacare
Drew Angerer / Getty Images
It's been a really bad week for Senate Republicans' attempts to repeal and replace the Affordable Care Act (ACA).
On Monday night, news broke that two more Republicans had broken ranks to say that they would vote against the Senate health care reform bill, effectively dooming it and ending the GOP's latest attempt to replace Obamacare.
UPDATE: Senate Majority Leader Mitch McConnell said in a statement late on Monday that the Senate would vote to repeal the ACA without replacement legislation in the upcoming days. The proposed repeal would include a two-year delay "to provide for a stable transition period to a patient-centered health care system."
EARLIER: Senators Mike Lee of Utah and Jerry Moran of Kansas announced on July 17 that they would not be supporting the Better Care Reconciliation Act (BCRA) in its current form, according to the Associated Press. Their statements come on top of firm rejections of the bill from Susan Collins of Maine and Rand Paul of Kentucky, who both said last week that they would not vote for the bill.
Senate Majority Leader Mitch McConnell, who has been pushing for the bill's passage, could only afford to lose two votes and pass the legislation.
The effort to repeal and replace the ACA, otherwise known as Obamacare, has been rocky.
The House of Representatives passed their version of the health care bill, the American Health Care Act (AHCA) by a hope and a prayer (and a scant four votes) before sending it to the Senate, where it was completely rehauled. The BCRA, the Senate version of the bill, had its vote canceled several times due to lack of support, most recently due to Arizona Senator John McCain's absence due to surgery.
Republican senators have been split in their support of the bill, but for vastly different reasons.
Some thought the bill was too extreme, and some thought it didn't go far enough. In a statement released via Twitter, Sen. Moran said that the BCRA:
fails to repeal the Affordable Care Act or address healthcare's rising costs. For the same reasons I could not support the previous version of this bill, I cannot support this one.
As of June 17, the effort to repeal Obamacare is not necessarily dead, but it looks to be seriously undermined.
At least for the moment, the most serious challenge to former President Barack Obama's signature legislation appears to have fizzled out. But that doesn't mean the will to repeal and replace is gone.
Shortly after the news broke, Republican Sen. John McCain shared a statement calling for a new, bipartisan effort to revamp health care.
Congress must now return to regular order, hold hearings, receive input from members of both parties, and heed the recommendations of our nation's governors so that we can produce a bill that finally provides Americans with access to quality and affordable health care.
And of course, the president, who is never far from his Twitter log-in, quickly weighed in.
He called for Republicans in Congress to repeal the ACA now and work out the details of replacement later.
We'll have to wait and see how that goes.