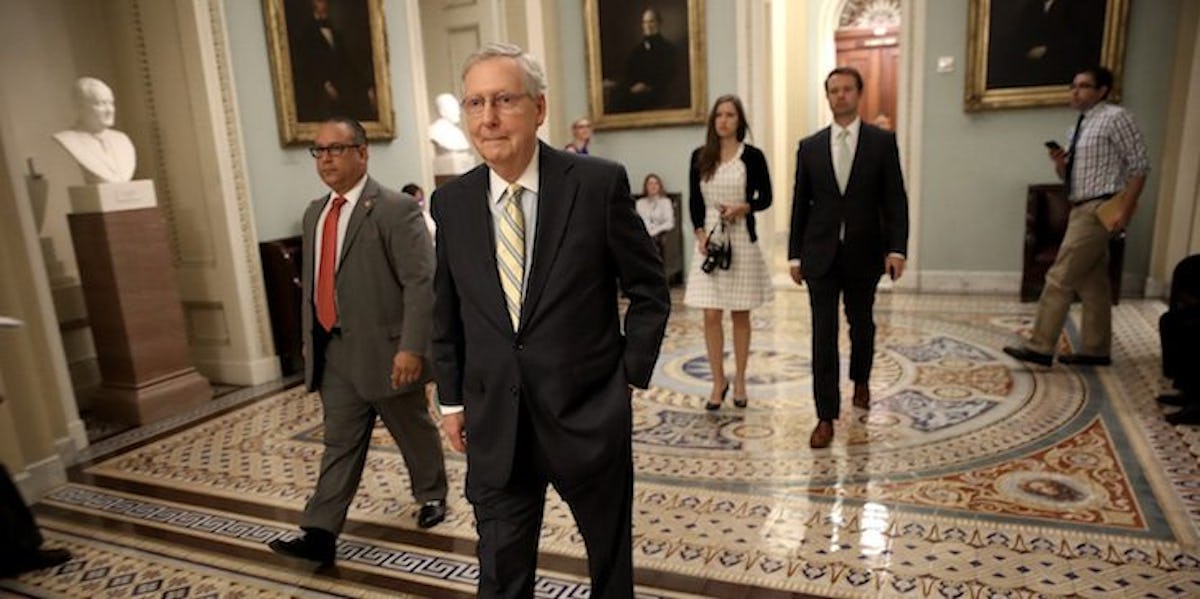 The Health Care Vote Got Delayed Again, And Twitter Is Roasting Congress For Why
Win McNamee / Getty Images
The Senate is having a really rough time getting its version of a health care bill passed. After pushing back the vote due to lack of support back in late June, a planned vote for the week of July 17 has been delayed again, after a crucial vote went missing.
Senate Majority Leader Mitch McConnell chose to delay the vote on the Better Care Reconciliation Act (BCRA), the Senate version of the American Health Care Act (AHCA), due to the absence of Arizona senator and 2008 presidential candidate John McCain for surgery, according to the Associated Press. McCain, 80, recently underwent an operation to remove a blood clot from above his left eye, and his doctors have reportedly advised him to stay home while he recovers.
Twitter found it all a bit ironic.
While initial reports that Congress was trying to exempt themselves from the new health care bill turned out to be based on an error, members of Congress are unlikely to personally experience the drastic changes that the BCRA could inflict on their constituents.
Members of Congress and their staff get their health care though a small-group exchange in the District of Columbia, which will likely keep most of the provisions of the Affordable Care Act, according to The Washington Post.
Either way, Congress gets top-notch health care, all while they're trying their best to remove that option for everyone else.
In light of the irony, the internet did what the internet does best.
Some pointed out that even without good insurance, it's not like McCain would have been unable to afford the care he needed.
Unlike the 15 million people currently covered by Medicaid who are projected to lose insurance under the new bill, per Vox.
I'm not sure what cheese has to do with it, but McCain had an estimated net worth of over $14 million in 2015, according to Washington D.C. newspaper Roll Call.
So, not exactly $20 (or $100) million, but he's doing just fine.
The unpopular bill's vote is so tight that McCain's absence would be its ruin.
Two Republican senators, Susan Collins of Maine and Rand Paul of Kentucky, have come out with hard "no"s against the bill, and several others were reluctant to confirm support. McCain himself told CNN late last month that he was still considering. McConnell can only afford to lose two votes and have the bill pass.
In a statement posted to Twitter, McConnell said of the delay,
While John is recovering, the Senate will continue our work on legislative items and nominations, and will defer consideration of the Better Care Act. 
He didn't say when a new vote would be scheduled.