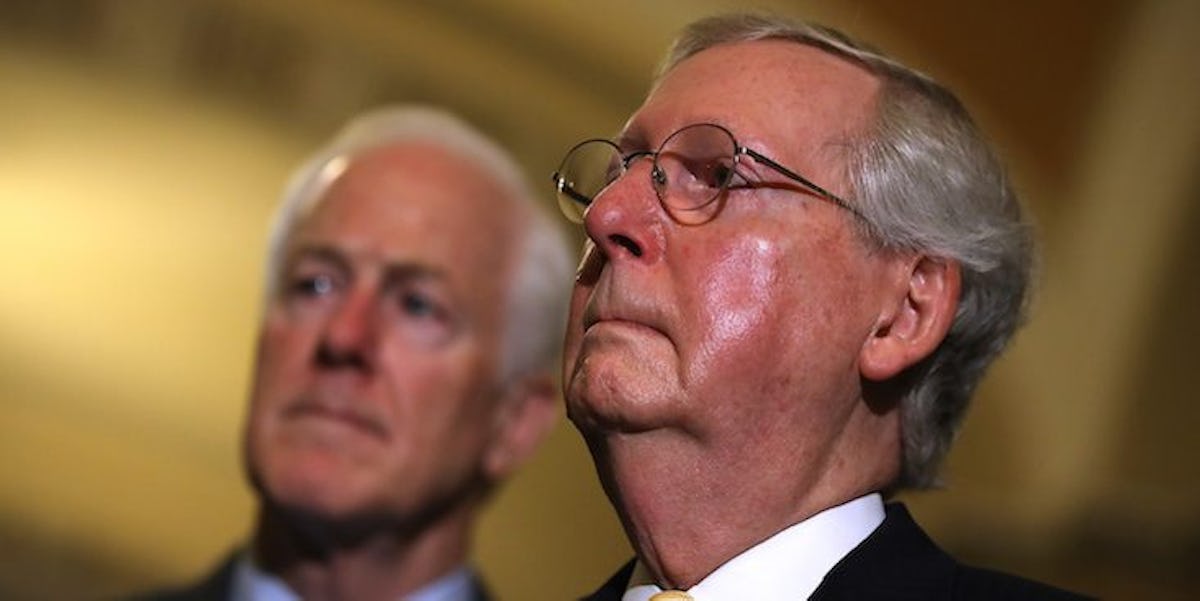 The Senate Just Voted Down A Major Obamacare Repeal And Replace Bill
Justin Sullivan/Getty Images
After a extremely tight vote to allow debate to begin on the process to repeal and replace the Affordable Care Act (ACA), better known as Obamacare, on Tuesday, legislators have made its first major decision on how the repeal effort will go. Late on Tuesday night, the Senate voted 57-43 against the Better Care Reconciliation Act (BCRA), The New York Times reported. The controversial bill was the Republican party's most comprehensive effort to replace Obamacare.
With the apparent failure of the BCRA, the path to replacing the ACA is murky.
The other two main options which remain for Congressional Republicans are what's been dubbed a "skinny" bill, which would repeal many of the unpopular-but-necessary aspects of the ACA, like the penalties for not having insurance; and a dubious repeal-now-replace-later proposal, which would allow for two years before the repeal went into full effect.
After a 51-50 vote split heavily along party lines in favor of opening debate on health care repeal on the afternoon of July 25, Tuesday evening's vote showed far more bipartisanship. The Times notes that the vote was technically a procedural vote on whether the bill complies with the budget act, but a "no" vote prevents it from becoming law without significant changes.
Nine GOP senators broke ranks to vote against the bill.
Senators Susan Collins of Maine, Bob Corker of Tennessee, Tom Cotton of Arkansas, Lindsey Graham of South Carolina, Dean Heller of Nevada, Mike Lee of Utah, Jerry Moran of Kansas, Lisa Murkowski of Alaska, and Rand Paul of Kentucky all voted no, per The Times. Arizona Senator John McCain, who earlier in the day called the repeal effort "a shell of a bill" in a passionate speech, voted yes.
The BCRA was the Senate version of the American Health Care Act (AHCA) which narrowly passed the House in May.
Neither version has been exactly popular — up until Tuesday's vote, multiple Republican senators continued to speak out against the bill, as Senate Majority Leader Mitch McConnell of Kentucky tried to find compromises that would appeal to everyone.
One of those compromises was an amendment proposed by Texas Senator Ted Cruz, which would have allowed insurance companies to sell bare-bones plans that did not comply with the ACA. A study found that the amendment could lead to more expensive insurance for the sick, and over 4 million more people uninsured. Also in the bill was an additional $100 billion in money earmarked for Medicaid, as a concession to moderate Republicans.
The Senate will undoubtedly debate more options in the coming days.
But for the moment, it seems one of their best hopes at replacing the ACA is stymied.