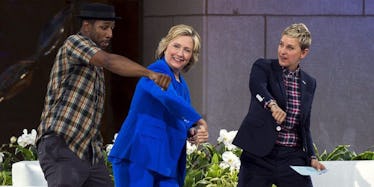 Rock And Polls: How Music Impacts Politics In The 2016 Presidential Race
Warner Bros. Television
Three young girls took the stage two weeks ago to sing a song in support of presidential candidate Donald Trump.
The bizarre performance, which seemed more like a deleted scene from "The Interview" than an actual part of the US presidential race, went viral pretty much immediately.
The song has deeper roots than you think: It's actually a remix of "Over There," a patriotic song by George M. Cohan used during World War I and II, according to Dana Gorzelany-Mostak, assistant professor of music at Georgia College & State University.
Gorzelany-Mostak is the creator of Trax on the Trail, a project dedicated to documenting and analyzing the music candidates use in the 2016 presidential race.
We talked to her about the ups and downs in the music used so far in the election, and it's safe to say "The Official Donald Trump Jam" held Gorzelany-Mostak's interest.
In an email, she told Elite Daily,
Does female cuteness soften the candidate's message and perhaps even temper his insolent image? That depends on who is watching. Detractors have castigated Trump for his unabashed xenophobia and adherence to the ethos of exceptionalism; therefore, it will probably only be a matter of time before someone views footage of the Pensacola event and starts making analogies with the Hitler Jugend. For a campaign where shock value is par for the course, why should music performances be any exception?
Gorzelany-Mostak explained in a phone interview Trump's musical choices mirror his campaign. He (or more probably his team) uses music some people sing along to and others might see as deeply disturbing -- the music is polarizing, just like his run.
Music from artists opposed to Trump and his stances also plays at his rallies and events, including music from Adele, Neil Young and Aerosmith. But Trump trumps on playing those songs, using the musical choices to show his "defiance," according to Gorzelany-Mostak.
Other presidential candidates have been somewhat safer in their musical uses. Martin O'Malley, for example, puts his guitar playing to good use, Trax analyzed. He may not be doing much right to get momentum in the race, but he has an excellent handle on how to use music to get people to like him.
O'Malley plays the guitar like that moody English major you had a crush on in college. He gets you to emotionally connect, creating a sense of intimacy. Gorzelany-Mostak said,
If you do that through music, it's a safe space.
Some candidates are trying out more modern music. Marco Rubio actually likes house music and played "Something New" by house music duo Axwell & Ingrosso in his campaign, but he stopped after the duo issued a cease-and-desist, something fairly common in campaigns.
Hillary Clinton, on the other side, appears to reach out to female voters with campaign support from artists like Katy Perry and Demi Lovato.
Clinton's campaign is pretty highly connected to music. She even released a Spotify playlist to soundtrack the race the same day she held her campaign kick-off rally.
Meanwhile, Bernie Sanders has campaign support from rapper Killer Mike. This could be seen as a move to appeal to black voters, but Gorzelany-Mostak said it's unclear if it had much of an effect, considering Clinton's history of support from black voters.
I asked her if Killer Mike's support for Sanders is different from how it might have been for Barack Obama, given Obama faced racist attacks in his campaign.
She replied dryly the people who don't like hip-hop, who maybe view hip-hop as something threatening, probably wouldn't vote for Sanders regardless, so Killer Mike's support can only help to solidify Sanders' standing among a more progressive, younger crowd.
During his campaigns, Obama used hip-hop "in a nuanced way," Gorzelany-Mostak said. He engaged with hip-hop artists but also didn't hesitate to call out negativity in the hip-hop world, like when he criticized Ludacris for his lyrics bashing other politicians in "Politics as Usual."
In general, Gorzelany-Mostak said, Sanders has been using a wide mix of music as evidenced by the Simon & Garfunkel song in his latest ad. And he's had some laughs in there, too. She said,
The humor in Ellen DeGeneres's popular 'Hotline Bling' parody of dancing Sanders is rooted in the fact that smooth R&B grooves seem incompatible with the candidate's persona.