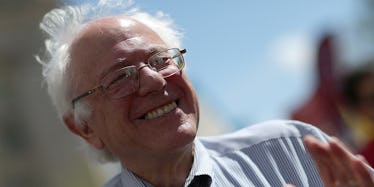 Bernie Sanders' New Campaign Ad Reminds You He's A Hippie At Heart
Getty Images
Democratic presidential candidate Senator Bernie Sanders just released a powerful new ad featuring the Simon & Garfunkel song "America."
The ad ties together past and present; it's nostalgic yet timely, and it reminds people Sanders is really just an old hippie who became politically active in the 1960s.
Simon & Garfunkel first released "America" in 1968, the same year Sanders migrated to Vermont as part of a "hippie migration."
The images in the ad -- a tugboat on a river, Millennials at work and in coffee shops, hardworking farmers, fathers walking with their children -- are seemingly meant to remind people Sanders' campaign is about them, the American people.
It's a fundamentally positive and hopeful ad, with no specific policy proposals or assertions. The only vocal statement comes at the end:
I'm Bernie Sanders, and I approve this message.
The ad comes not long before the Iowa caucuses (February 1) and stands in stark contrast with an ad recently released by his top Democratic opponent, Hillary Clinton.
Clinton's ad is more traditional, with a focus on issues like foreign policy, healthcare and the economy. It serves as a reminder of Clinton's long and diverse political career; she's a former first lady, senator and secretary of state.
In many ways, the disparity between the ads is emblematic of the different images Sanders and Clinton sought to present to the public.
Sanders' campaign has been defined by his call for a "political revolution," which is deeply emotive and idealistic.
Comparatively, Clinton's campaign has constantly reiterated how experienced she is, seeking to convince people she's the more grounded and realistic candidate.
At the moment, Clinton leads Sanders by nine percentage points in Iowa, according to a Monmouth College/KBUR-AM survey released on Thursday, CBS News reports.
But Sanders also has a significant lead over Clinton in New Hampshire, which will hold the first-in-the-nation primary on February 9.
A recent CNN/WMUR poll found Sanders leads Clinton in New Hampshire by a whopping 27 points (60 percent to 33 percent).
Only time will tell how these candidates ultimately fair in Iowa, New Hampshire and beyond. In the meantime, watch the video of Sanders' new campaign ad below.