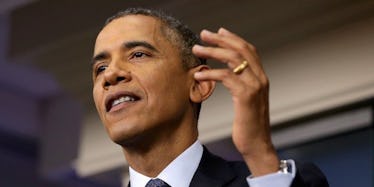 President Obama Plans To Take In At Least 10,000 Refugees In 2016
Getty Images
On Thursday, the White House announced the United States will take in at least 10,000 Syrian refugees in 2016, The Hill reports.
So far, the US only admitted around 1,500 Syrian refugees -- out of about four million in total.
Accordingly, those who criticized America for not doing enough to respond to the ongoing refugee crisis may find this news a welcome development.
With that said, other countries committed to accepting far more refugees next year; Germany will allow up to 500,000 refugees to enter. To put this into perspective, Germany has a population of around 80 million, while the United States has a population of over 320 million.
The United States could still arguably do more to help address the global refugee crisis, but this is certainly a positive step forward from a humanitarian perspective.
Citations: Obama planning to admit 10K Syrian refugees (The Hill)