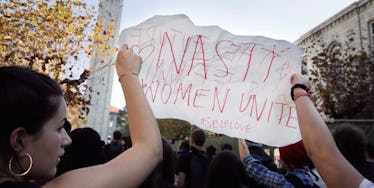 This Is How To Get Involved With The Women's March If You Can't Get To DC
REUTERS
The Women's March on Washington is gearing up to be the biggest event to hit our nation's capital this month.
The march is going down on Saturday, January 21, and there will be 1,000 more buses attending the event than Donald Trump's inauguration on Friday.
There are a lot of women (and men) who want to get involved with the Women's March but just can't make it out to DC.
But there's good news: It's not the end of the world. There are lots of ways to get involved without actually marching.
But if you're really into the idea of marching, there are literally hundreds of "sister marches" going down across the world.
At the moment, there are 616 marches registered with the Women's March, which will take place across all 50 states (and even in 57 countries) according to sister march spokesperson Yordanos Eyoel. You can find them all here.
The Women's March is estimating there will be well over 1 million people marching in solidarity.
These local marches were "organized by everyday people who want to stand for democracy and freedom for all and believe in the American values of decency, equal rights and freedom from discrimination," Eyoel told Elite Daily.
And it's not like they're being held just to give women who can't travel something to do. This is a way to have your voice heard in your own community and recognize things you want to change on a local level.
Eyoel said working on the marches has been bringing people together from across social circles, linking different kinds of activists and professionals to help get to work.
As the marches have been organized, there's been a ton of conversation about their intersectional inclusivity — basically, ensuring that they're not just spaces for straight white women to be self-righteous, as feminism has historically been at times.
But Eyoel insisted the marches are being actively engaged for all. Even if problems have occurred in the past, she said,
March leaders are really committed to rectifying any mistakes they may have made and making sure that the march is inclusive and representative.
Joining the sister marches is super easy. Eyoel said,
All they have to do literally is show up. Just know where to be and at what time.
There are ways to prepare yourself to march, and many women are working on posters and pink hats. But really, you just have to be there and be yourself and demand your rights and freedoms get recognized.
The overall goal of the marches is to declare democracy and freedom for all through three tenets:
First, to send a message on local and national levels that this country stands for decency and equal rights.
Second, to make it clear there's unity and solidarity among women.
Third, to be a platform for those who may have previously not been engaged on a political, activist level within communities.
This is a chance to lift up the voices of those who have not had it heard loudly before, and possibly a starting point for many people new to speaking out and demanding rights.