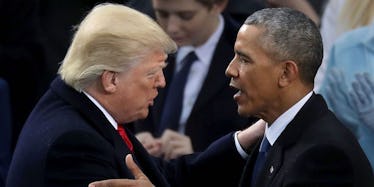 Obama And Trump's Most Popular Tweets Side-By-Side Show How Much Things Have Already Changed
Chip Somodevilla/Getty Images
Barack Obama might have been the first social media president, but Donald Trump definitely uses it in a way almost no one could've imagined. Trump tweets so much and in such a controversial way, polls show he's got a majority of Americans begging him to stop. The difference between Obama and Trump's tweets not only speak volumes about their different approaches to social media, but also the presidency and life more generally.
The following tweets from Obama and Trump are ranked as their most popular based on the number of retweets. Obama's most popular tweets based on retweets were pointed out by Twitter to CNET close to his final day in office, while Trump's most popular tweets based on retweets can be found via the Trump Twitter Archive.
Some interpreted Trump's tweet as an incitement of violence against the media.
Obama's second most popular tweet came after he was reelected, while Trump's was his infamous "covfefe" tweet, which has since been deleted.
Former White House Press Secretary Sean Spicer attempted to justify the confusing covfefe tweet by claiming, "The President and a small group of people know exactly what he meant."
Obama's third most popular tweet was a celebration of the Supreme Court's decision to legalize same-sex marriage nationwide, while Trump's marked his visit to Saudi Arabia.
Obama's fourth most popular tweet was directed at a Muslim teen who was controversially arrested for bringing a homemade clock to school. Trump's fourth most popular tweet accused Qatar of funding extremism, which was highly controversial given it's a key US ally in the Middle East.
Obama's fifth most popular tweet came when he joined Twitter (six years into his presidency), while Trump's told people to "enjoy" trying to figure out what "covfefe" means.
Obama and Trump's most popular tweets say a lot, but don't necessarily tell the whole story in terms of how they've engaged with the public via Twitter.
It's worth taking a deeper look at these president's respective tweets. As president, Obama typically used Twitter to mark special occasions, address various political topics, or applaud certain individuals.
Comparatively, Trump has often used Twitter as a medium to attack his critics since becoming president, which isn't much different to how he used it as a private citizen. Through his tweets, Trump has exhibited behavior that many view as the antithesis of what it means to be presidential.
Trump has used Twitter to go after the judiciary, free press, and, at times, Obama.
There have also been times when Trump's tweets are simply confusing, and it's anyone's guess what he meant.
Who knows what social media use will look like for presidents in the future, but Obama and Trump have certainly set starkly different precedents in terms of how they've used Twitter.