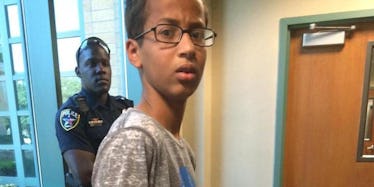 School Accused Of Islamophobia After Teen Arrested For Homemade 'Bomb'
On Monday, an inventive ninth grader named Ahmed Mohamed in Irving, Texas brought a homemade clock to school in order to impress his teachers.
But, as The Dallas Morning News reports, instead of applauding him, the teachers decided to call the police. Apparently, they thought the clock could be a bomb.
Consequently, Ahmed, who is just 14 years old, was handcuffed and taken to juvenile detention.
Several students and his counselor witnessed this, which was undoubtedly humiliating for the young man.
Ahmed was suspended from school for three days and could be charged with making a hoax bomb. The clock is currently in an evidence room.
He is reportedly the type of young man who loves to build things. His father, Mohamed Elhassan Mohamed, a Sudanese immigrant, said,
He just wants to invent good things for mankind. But because his name is Mohamed and because of September 11, I think my son got mistreated.
Ahmed was a big fan of robotics club in middle school and wanted to continue to follow his passions in high school. This inspired him to build the clock. When he brought it to school, however, teachers were hardly impressed.
He said his engineering teacher advised him not to show it to any other teachers. He kept the clock in his backpack, but the alarm ended up going off in his English class.
When Ahmed showed his teacher what he made, she allegedly stated,
It looks like a bomb.
He said he immediately disagreed, but the teacher still confiscated the clock. Subsequently, Ahmed was pulled out of class by the principal and a police officer.
He was then taken to a room and interrogated by several other police officers who claimed they asked him whether or not he was trying to make a bomb.
Ahmed said he made it clear he was just trying to build a clock. At one point, the principal reportedly threatened to expel Ahmed if he didn't offer a written statement.
In relation to the incident, police spokesman James McLellan stated,
It could reasonably be mistaken as a device if left in a bathroom or under a car. The concern was, what was this thing built for? Do we take him into custody?
The Council on American-Islamic Relations is now investigating the incident over allegations of Islamophobia. Alia Salem, who directs the council's North Texas chapter, said,
This all raises a red flag for us: how Irving's government entities are operating in the current climate. We're still investigating, but it seems pretty egregious.
All of this is quite disconcerting, and it seems like a blatant case of profiling. Since the terror attacks on September 11, 2001, evidence has shown discrimination against Muslims in the US has risen drastically.
According to The Washington Post, for example, hate crimes against Muslims are around five times more common today than before 9/11.
Beyond the concerns over Islamophobia, perhaps the saddest aspect of all of this is Ahmed said he will never bring another invention to school.
Fortunately, there has been an outcry of support for Ahmed on social media, and he recently tweeted to say thank you.
Thank you for your support! I really didn't think people would care about a muslim boy. #Thankyouforstandingwithme #IStandWithAhmed — Ahmed Mohamed (@IStandWithAhmed) September 16, 2015
President Obama even invited Ahmed to the White House.
Cool clock, Ahmed. Want to bring it to the White House? We should inspire more kids like you to like science. It's what makes America great. — President Obama (@POTUS) September 16, 2015
Watch Ahmed describe the harrowing experience in the video below.
Citations: Irving 9th-grader arrested after taking homemade clock to school: 'So you tried to make a bomb?' (The Dallas Morning News), Anti-Muslim hate crimes are still five times more common today than before 9/11 (The Washington Post)