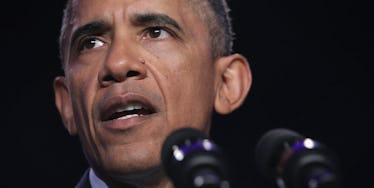 President Obama Says US Troops Need To Remain In Afghanistan Past 2016
Getty Images
This morning, President Obama announced the American military will not be withdrawing from Afghanistan by the end of 2016, as previously planned.
There are currently 9,800 troops in Afghanistan who will stay there for most of 2016.
By the end of 2016 or early 2017, when President Obama's term ends, that number will reportedly decrease to around 5,500, which is more troops than were in Afghanistan in March 2002, according to The Washington Post.
The troops remain there to work on stabilizing safety in the country, with some training Afghan forces and others seeking out Al-Qaeda and ISIS militants, according to The New York Times.
In December 2014, Obama announced formal combat ended in Afghanistan. Earlier that year, Obama said he would withdraw troops from Afghanistan by the end of 2016. Now, that's not happening.
The president said Afghan forces are currently unable to secure parts of the country. He said,
In key areas of the country, the security situation is still very fragile, and in some areas, there is risk of deterioration.
Afghanistan President Mohammad Ashraf Ghani is supportive of having US troops in the country, The Wall Street Journal reports.
This change in plan is a clear signal the Taliban, among other militant groups, remains a serious problem in Afghanistan -- serious enough to keep American troops at risk.
Obama acknowledged some men and women in the military may have to rotate back into the country, which remains dangerous. Addressing them directly, he said,
I do not send you into harm's way lightly. It's the most solemn decision that I make. But as your commander in chief, I believe this mission is vital to our national security interests in preventing terrorist attacks against our citizens and our nation.
Obama said he is asking "all parties in the region" to encourage the Taliban toward peaceful discussions.
The Taliban took control of the northern city Kunduz last month and were able to hold onto it until this week. NPR reported,
In recent weeks, Kunduz has seen a well-coordinated, multi-pronged attack from Taliban fighters who converged from different directions, stunning Afghan security forces.
Now, the American military may be under even greater scrutiny in Afghanistan, however, after the US bombed a Doctors Without Borders (MSF) hospital near Kunduz.
Citations: Obama Announces Halt of U.S. Troop Withdrawal in Afghanistan (The New York Times), In Major Afghanistan Shift, Obama Drops Plan to Withdraw Most U.S. Forces (The Wall Street Journal)