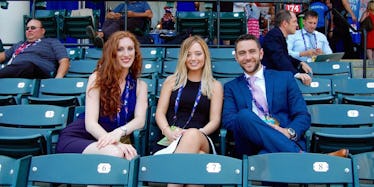 The Millennials Who Made The RNC Happen Talk What It's Like To Work For Trump
The Republican National Convention sounds like a very serious organization, run by a bunch of old dudes.
But in reality, there are scores of people of all ages who worked to make the RNC happen this week in Cleveland, Ohio.
And it's not all political junkies: The convention requires so many different types of work. So, people from all professional backgrounds flocked to Cleveland.
I met with Shannon Polvino, Liz Hanna and Ben Rank – three Millennials working for the convention – at Progressive Field, right next to the Quicken Loans Arena where the RNC went on. While sitting in the baseball stadium seats, we chatted about their work for the RNC.
Polvino is 23, and from Buffalo, New York. She served as Associate Director for Network and Cable TV Liaison. She ended up at the RNC after working in PR with Michael Caputo, who briefly worked on the Trump campaign before he resigned in late June.
I didn't even know who the governor of New York was when I first started. So, yeah, I've come a long way.
Hanna, 18, just graduated from high school in Cleveland, and joined the convention as Communications Department Staff Assistant. Hanna also ended up at the RNC through Caputo, who is her mom's friend's cousin's cousin (whew).
She applied for the job, and actually started the day Caputo resigned.
I had a little 'thank you' note to say thanks for hiring me. So I just gave it to him before he left.
Despite Polvino and Hanna's titles, they've both done a variety of jobs for the convention. Polvino has worked in booking, planning media events with surrogates, helping out with talking points and social media (including getting information to Trump's Twitter).
Hanna has served as a helper around the offices: typing things up, making Excel sheets, working on talking points and so on. Polvino and Hanna have had some cool experiences, like "spying" on a Rules Committee meeting that lasted 16 hours.
Rank, 26, from Washington, DC, served as Director of Convention Stores with the Republican National Committee. He was basically in charge of making sure that all the merchandise -- t-shirts, hats and so on -- was prepared for the RNC.
Rank came from a merchandise operations background, having previously worked in the executive development program at Macy's. He said,
For me, this wasn't about politics. This was about an incredible opportunity for me to grow and for me to learn.
The trio has been working tirelessly over the past several weeks to get the RNC off the ground. Rank said,
There's so much expected of you in such a short period of time, and the scope of the work that you are doing is massive.
Each of them had a learning curve to figure out how best to do their jobs. This was especially true for Hanna, considering her young age. At first, she said that she was too scared to ask for more explanation when someone asked her to do something.
But now that she's comfortable with her co-workers, it's not a problem. She's been learning a lot.
Polvino learned how to get the most out of her job. She said,
Ask for what you want to do. I'm kind of worried sometimes to ask a supervisor if I can do something, but they've been very welcoming in letting us have the experience that we want to have.
As for Rank and Polvino, they've had to move out to Cleveland and learn about their new home city. Polvino said,
I was kind of nervous when this started because I'd never been away from home for more than like a week before.
But they've both been loving Cleveland, especially since they got to be there for the Cavaliers' championship win. They'll both be moving out at the end of this week, after such a whirlwind experience.
Rank said that working on the campaign is similar to working at a startup. You're doing a wide variety of jobs, working long hours with a group of people and making things work on a tight budget. He said,
I've been very lucky that I've had some great opportunities, and this is, by far, the most stressful experience I've been a part of. That doesn't necessarily make it a bad thing. When you get a moment to take a breath and kind of reflect on what you've done, you almost are amazed at what you've achieved... So it is very stressful, but it's a ton of fun at the same time and something that I think a lot of young people would really enjoy.
Rank, Polvino and Hanna were all nervous before starting the job. This was especially compounded for Polvino and Hanna when Caputo left Trump's campaign. Polvino said,
I was depressed for one day. I literally sat in his office all day and was really upset. But then the next day, I worked with [Director of Media Affairs] Pam Stevens, and she's been like a mom to me while I've been here. She's amazing.
Despite the worries and stress, they've all had a ton of fun working on the RNC. Aside from the work, they took the time to go out and socialize, even if it meant losing much-needed sleep.
With the convention finally happening after all their hard work, it's been cool to see the fruits of their labor. Hanna said,
Definitely, it's a huge confidence booster just knowing what I've done. Even though in the grand scheme of things it's nothing compared to the whole operation, I've put in so much work that it is a huge confidence booster. It's just nice to know I've accomplished that.
They all rose above their fears about not being ready for their work. (It seems like there was some imposter syndrome going on.)
Don't let your age disqualify you from trying something or committing to something.
I asked Rank what he learned from the experience, and he said,
Believe in yourself. I know that's a cliché, but I definitely was weary about taking a position like this. I knew that I could do it, but I needed the confidence to say, 'OK, I know I'm going to do this, and it's going to go off well.' That still remains to be seen, but believe in yourself. And when an opportunity presents itself, take it. Because you can do it, you just have to push yourself and you will make it happen.
Their experience sounds kind of like summer camp, but a super high-intensity one that ends with a performance in front of a gigantic, international audience. Polvino said,
I've loved every second of it, honestly. It's exhausting but so rewarding.
Polvino and Rank are headed back home, while Hanna is preparing to go to college in the fall. They're not sure if they'll continue to work in politics, but they can't deny that this has been a surreal, amazing experience.
We Are Human, We Are ConnectedAn attack on one of us is an attack on all of us Posted by Elite Daily on Friday, July 15, 2016
Citations: CNN