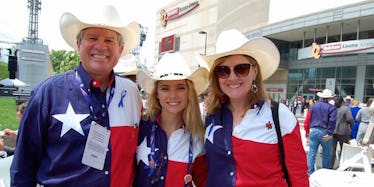 How To Dress Like A Real American, As Told By The Patriots Of The RNC
Everybody knows the best part of any political event is obviously the clothes and accessories.
The attendees of the Republican National Convention in Cleveland, Ohio this week seriously brought it with their patriotic outfits.
Outfits inside the Quicken Loans Arena ranged from high class suits and heels to American flag leggings and baseball caps covered in pins. It was a great mix of class and cheesiness.
Ultimately all that mattered was that these people came, they were seen and they conquered -- in red, white and blue.
Republicans pride themselves on patriotism, and these outfits were ultra-American.
Check out that RNC sense of style.
Show your colors with cute, elephant-patterned outfits.
Or go super classy with a top hat -- but make sure you've got pins so people know what you're about.
Suits are timeless, and pairing a jacket with khaki pants is a Republican tradition.
Another quintessential American tradition? Seersucker.
And then you can take an alternate route, donning an elephant hat.
Thought you'd never get another use out of those American flag leggings you got for the Fourth of July? You thought wrong!
If you want to show your patriotism, sometimes you have got to go all in.
Or you can follow another American tradition of militarized police looks.
Now, we have to give a serious shout out to the delegates from the great state of Texas.
They went all in on their outfits, showing national and state pride and smiling through it all (until they started yelling about whatever political tension they were mad about at that moment).
But really, great job, Texas. You the real MVPs.
We should all strive to be more like Texas. In how they dress, at least.