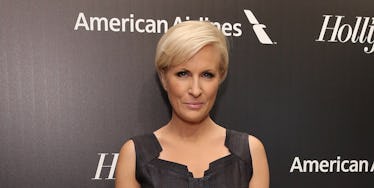 Mika Brzezinski Is Getting The Last Laugh After Donald Trump's Sexist Tweets
Neilson Barnard/Getty Images
Donald Trump got himself into hot water on social media last week, after tweeting insults at Morning Joe co-host Mika Brzezinski.
But now, it looks like Brzezinski is getting the last laugh, as the episode of Morning Joe after Trump's tweets enjoyed the show's highest-ever ratings, Forbes reported on July 5. Trump's disapproval is a real career-killer, obviously.
On June 29, Trump tweeted out an attack on Brzezinski and her co-host and fiancé, Joe Scarborough. The tweets quickly got personal, with Trump saying that during an alleged visit to his Mar-a-Lago resort in Florida, Brzezinski had been "bleeding badly from a face-lift" and that he refused to let her accompany him.
But despite the president's social media attacks, he doesn't seem to have ultimately hurt Brzezinski all that much. The day after his tweets, Morning Joe saw a 66.5% increase in viewers, making it the top ratings ever for network MSNBC during that time slot. Even better, Morning Joe — which used to be Trump's reported morning show of choice — beat out Fox & Friends, a rival show and Trump favorite which usually has the highest ratings for that time slot, per Forbes.
On the June 30 episode, Brzezinski addressed the feud. "We are okay," she said at the time. "The country is not."
Trump, who has previously referred to a woman as "bleeding" as an insult, continued to tweet at the pair over the next few days.
Besides one delightfully shady tweet, Brzezinski has mostly allowed the Twitter feud to stay one-sided.
Morning Joe isn't the first media outlet to see the bright side of Trump's loose-cannon social media use.
The New York Times saw bumps in subscriptions after Trump's angry tweets about the publication, according to The Hill. Executive Editor Dean Baquet even called the president "the best thing to happen to the Times' subscription strategy" in a February interview with CNN.
We'll have to wait and see what ratings the future holds for Morning Joe.