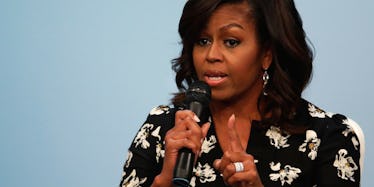 Michelle Obama Scolds Trump: 'You Don't Keep American Democracy In Suspense'
REUTERS
Michelle Obama has no time for Donald Trump's shenanigans over whether he'll accept the ultimate outcome of the US presidential election.
He is threatening the very idea of America itself.
On Thursday, she delivered yet another powerful speech while campaigning for Hillary Clinton in Phoenix, Arizona.
The first lady argued Trump's rhetoric and demeanor about the election being "rigged" is indefensible and dangerous.
She stated,
The voters decide who wins and loses, period, end of story, and when a presidential candidate threatens to ignore our voices and reject the outcome of this election he is threatening the very idea of America itself and we cannot stand for that. You do not keep American democracy in suspense.
Obama was referencing Trump's answer to a question he was asked during the final presidential debate.
The debate moderator Chris Matthews inquired as to whether Trump would accept the result of the election in November, even if he loses.
I will look at it at the time. I'm not looking at anything now. I'll look at it at the time... What I'm saying is that I will tell you at the time. I'll keep you in suspense. OK?
Subsequently, a few hours before Michelle Obama's speech on Thursday, Trump said he would accept the outcome of the election with one major catch -- if he wins.
The First Lady was not willing to let this slide and contended that what Trump is doing is an insult to those who have fought and died for this country.
Her speech, which was a massive rebuke of Trump's entire campaign, focused a great deal on the notion of hope.
We have a candidate whose vision for our country is completely and utterly lacking in hope. A candidate who tells us that our country is desperate and weak, that our communities are in chaos, that our fellow citizens are a threat, a candidate who calls on us to turn against each other, to build walls, to be afraid.
She contrasted Trump's vision of America with Clinton's and said the Democratic presidential nominee helped remind her of "the importance of hope."
Throughout her speech, the First Lady didn't say "Trump" even once.