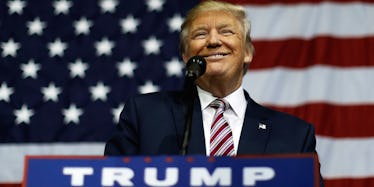 Huge Cry Baby Trump Says He'll Only Accept Election Results 'If He Wins'
REUTERS
On Thursday, Donald Trump said he'll "totally" accept the ultimate result of the election.
There's just one major catch -- he'll accept it only if he wins.
I will totally accept the results of this great and historic presidential election -- if I win.
Have you ever beaten someone in a video game, and then your opponent whined about how you only won because the controller he or she used was supposedly broken?
That's basically how Donald Trump is treating this election, and he's deliberately undermining America's democratic process.
During the final presidential debate on Wednesday night, the Republican presidential nominee shadily refused to give a clear response over whether he'd accept the outcome of the election.
He said,
I will look at it at the time. I'm not looking at anything now. I'll look at it at the time... What I'm saying is that I will tell you at the time. I'll keep you in suspense. OK?
As controversy has consumed his campaign and his poll numbers have dropped, the real estate mogul has repeatedly claimed the election is "rigged."
This is what prompted debate moderator Chris Wallace to question Trump about whether he'd accept the outcome of the election if he ends up losing.
Wallace noted,
Sir, there is a tradition in this country — in fact, one of the prides of this country — is the peaceful transition of power and that no matter how hard-fought a campaign is, that at the end of the campaign that the loser concedes to the winner.
Long story short, Trump is seemingly prepared to defy and delegitimize the electoral process in the US.
This man is literally arguing the election is only valid -- in his eyes -- if he emerges victorious.
In effect, he's saying his voice is more important than the voices of millions of American voters.
This is not only disrespectful, it's dangerous to the health and stability of America's democracy. Not to mention, it's easily the most childish way a presidential candidate could treat the election.
Citations: