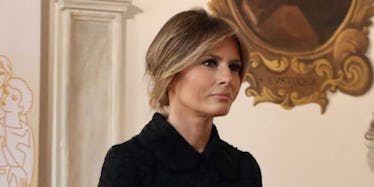 Melania Trump Responds To Shooting At Congressional Baseball Practice
Franco Origlia/Getty Images
First Lady Melania Trump has responded to a shooting that occurred at a baseball practice in Alexandria, Virginia involving Republican members of Congress on Wednesday morning.
She took to Twitter to thank the first responders and to offer her "thoughts and prayers to everyone."
Several people were reportedly wounded during the shooting, including Rep. Steve Scalise of Louisiana, the House Majority Whip.
Scalise is in "stable condition," according to a statement from his office. President Trump said the shooter died from injuries.
One person is in custody, but there aren't many details about the shooter or what the motive for the shooting was.
President Donald Trump also responded to the shooting on Twitter.
The president said Scalise was "badly injured" but will "fully recover," and called him a "true friend and patriot."
Vice President Mike Pence and White House Press Secretary Sean Spicer also tweeted about the shooting.
Two Capitol Police officers were also injured in the shooting. According to NBC News, their injuries are not considered to be life-threatening.
George Washing University Hospital also said it has received two individuals who were hurt in the shooting and are apparently in "critical condition." But, due to patient privacy laws and out of respect for those affected, it would not release further details.
Senator Rand Paul, who was at the batting cages at the field, described the shooting to MSNBC.
Paul said,
There was a rapid succession of shots, you know five or 10 shots. In the field, I see Representative Scalise is shot but moving, and he's trying to drag himself through the dirt and out into the outfield.
He added,
The people in the field unfortunately didn't have much of a chance because nobody could get to them and they couldn't get to us and it was a wide open field. There was no way to get to people like Scalise until the firing had stopped.
Paul, who said he probably heard around "50-60 shots," said Capitol Hill police helped prevent a massacre.