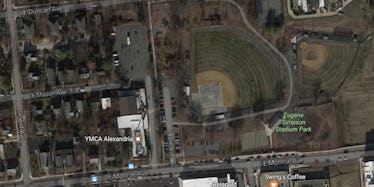 What We Know About The Shooting Near The Congressional Baseball Practice
Google Maps
A U.S. congressman was reportedly shot on Wednesday morning during a shooting at a baseball field in Virginia.
According to Fox News, Louisiana Republican Steve Scalise was among those injured.
UPDATE: Scalise was shot in the hip and transported to MedStar Washington Hospital Center, according to a statement from his office. He is undergoing surgery and in stable condition.
Before surgery, Scalise was "in good spirits and spoke to his wife by phone."
George Washington University Hospital confirmed it received two patients from the shooting, in "critical condition." President Trump confirmed the shooter died from injuries inflicted by law enforcement.
EARLIER: The shooting began around 7:15 AM in Alexandria, a suburb of Washington D.C., during a practice session for an annual congressional baseball game. Four people were shot by a gunman during the incident, CBS News reports.
During a phone-in interview with CNN, Rep. Mo Brooks, who was at the field, said a person carrying a rifle fired more than 50 shots.
Brooks told CNN,
Behind third base, I see a rifle...I hear Steve Scalise over near second base scream.
Alexandria police say they have the suspect in custody, but have not yet released any of the gunman's information.
As the House Majority Whip, the member tasked with corralling Republican colleagues around a consensus vote, Scalise is one of five House leaders granted a security detail while traveling.
That security detail became crucial on Wednesday morning, according to Sen. Rand Paul, who told MSNBC that the Capitol Police officers who travel with Scalise prevented the worst case scenario.
Paul said,
Everybody probably would've died, except for the fact the Capitol Police was there. The only reason they were was because we had a member of leadership on our team... By him [Scalise] being there, he probably saved everybody else's life, because if you don't have a leadership person there would've been no security there.
During a press conference, Alexandria Police Chief Michael Brown confirmed that Capitol Police were first to engage the shooter on the scene. Brown also called the situation "stable," adding that there was no additional threat related to the incident.
Fox News reports that Scalise was shot in the hip, while at least one other aide was shot in the chest.
The charity congressional baseball game, played between Republicans and Democrats, has been held annually since 1909. It was scheduled to be played on Friday night at Nationals Park in Washington D.C.
Elite Daily has reached out to the offices of Rep. Scalise and Rep. Brooks but has not heard back at time of publication.
President Trump has since responded to the shooting.