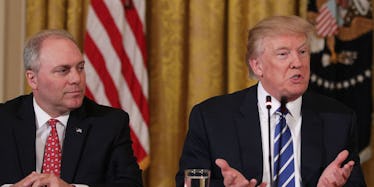 Donald Trump Responds To Shooting At Congressional Baseball Practice
Alex Wong/Getty Images
Steve Scalise of the House of Representatives was reportedly shot at a baseball field in Virginia during a practice session for an annual congressional baseball game on Wednesday morning.
The shooting, which took place in Alexandria, allegedly occurred in the dugout of the field. According to Fox News, Scalise was shot in the hip and and multiple Congressional aides were hit by the rifle-bearing gunman.
UPDATE: Scalise was shot in the hip and transported to MedStar Washington Hospital Center, according to a statement from his office. He is undergoing surgery and in stable condition.
Before surgery, Scalise was "in good spirits and spoke to his wife by phone."
George Washington University Hospital confirmed it received two patients from the shooting, in "critical condition." President Trump confirmed the shooter has died.
EARLIER: Press Secretary Sean Spicer first responded to the shooting on Wednesday morning around 8 a.m. ET, and said both Donald Trump and Mike Pence are aware of the incident.
He also said their "thoughts and prayers are with everyone affected."
President Donald Trump also responded to the shooting, and said Rep. Steve Scalise is a "true friend and patriot, was badly injured but will fully recover."
The president's thoughts and prayers are also with him.
According to a statement released by the White House, Trump is monitoring the situation.
An excerpt from his statement says,
The Vice President and I are aware of the shooting incident in Virginia and are monitoring developments closely. We are deeply saddened by this tragedy. Our thoughts and prayers are with the members of Congress, their staffs, Capitol Police, first responders, and all others affected.
Rep. Mo Brooks, who was reportedly present when the shooting occurred, told CNN two Capital Hill police agents were also shot during the "deliberate attack."
Fox News reports Brooks described the moments of the attack, and said,
Behind third base, I see a rifle... I hear Steve Scalise over near second base scream. While all of this is going on, Steve Scalise, our whip, was lying on the ground near the second base position crawling into right field, leaving a trail of blood.
Brooks believes the gunman used 50-100 shots during the attack and used the dugout as cover.
According to Sen. Rand Paul, Capital Police officers who travel with Salise saved lives. He said,
Everybody probably would've died, except for the fact the Capitol Police was there. The only reason they were was because we had a member of leadership on our team… By him [Scalise] being there, he probably saved everybody else's life, because if you don't have a leadership person there would've been no security there.
Elite Daily has reached out to the offices of Rep. Scalise and Rep. Brooks, but has not heard back at time of publication.