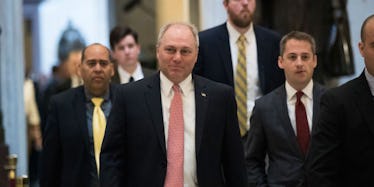 Rep. Steve Scalise Was Reportedly Shot At A Congressional Baseball Practice
Drew Angerer/Getty Images
Representative Steve Scalise was shot on Wednesday morning at practice for Congress' annual baseball game.
Scalise, a Republican who represents the First Congressional District of Louisiana, was among a reported five people who were injured. The suspect is in custody, Alexandria Police report.
UPDATE: Scalise was shot in the hip and transported to MedStar Washington Hospital Center, according to a statement from his office. He is undergoing surgery and in stable condition.
Before surgery, Scalise was "in good spirits and spoke to his wife by phone."
George Washington University Hospital confirmed it received two patients from the shooting, in "critical condition." President Trump confirmed the shooter has died.
EARLIER: The shooting happened at the dugout of a baseball field in Alexandria, Virginia, CBS News reports.
According to President Donald Trump, Scalise "was badly injured but will fully recover." The president said this in a tweet.
Although Scalise was shot, it was his presence at the practice that saved more people from being hurt, according to Senator Rand Paul.
This is because Scalise is the majority whip of the House of Representatives. That position makes him a leader in the Congress.
Because of that standing, Scalise has extra security. Paul told MSNBC,
Everybody probably would've died, except for the fact the Capitol Police was there. The only reason they were was because we had a member of leadership on our team… By him [Scalise] being there, he probably saved everybody else's life, because if you don't have a leadership person there would've been no security there.
The "majority whip" is the person in Congress who is dedicated to keeping her or his party in line when putting together votes on laws. Scalise is the "majority" one because he is a Republican, and Republicans have the majority of people in the House.
Scalise represents the First Congressional District of Louisiana. This covers the southeast part of the state, including the suburbs of New Orleans, but not the city itself.
The Louisiana politician is a conservative Republican "who upholds the Constitution, advocating for the principles of fiscal discipline, lower taxes, an all-of-the-above national energy strategy, a robust national defense, and conservative values," according to his official bio.
As a Republican, his work has generally been against the policies of former President Barack Obama and in support of President Trump. Scalise has worked with Trump since the inauguration, including on the Republicans' attempt to repeal and replace the Affordable Care Act, aka Obamacare.
Scalise has a "pro-gun stance" and an A+ rating from the National Rifle Association (NRA). He has introduced and sponsored several bills that ease restrictions on gun ownership, including concealed carry.
The reported five people injured in Wednesday's shooting may have also included a congressional staff member and members of law enforcement.
Alexandria Police Chief Michael Brown said in a press conference that the shooting situation is "stable" and that there are no additional threats.
More to come.