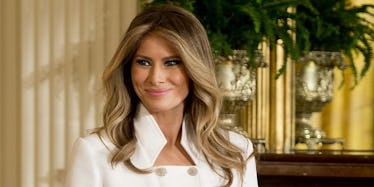 Melania Trump Keeps Tweeting 'Inspiring' Hashtag And No One Can Decipher It
REX/Shutterstock
Melania Trump may not be living at the White House, but she's making a space for herself as first lady on Twitter.
Since the Obamas left the White House, all official accounts were turned over to the Trumps. This includes the @FLOTUS account.
Trump has been using her account to share images of what she's been up to, especially in recent weeks.
Twitter users have noticed the first lady is regularly using a new hashtag, #PowerOfTheFirstLady.
She uses it especially when meeting with the wives of foreign leaders (quick side-eye at the lack of first gentlemen).
She also used it when thanking Emily Ratajkowski for defending her against sexism.
This has got a lot of people wondering what the hell #PowerOfTheFirstLady means.
Let's try and break that hashtag down.
For one, it's a very long hashtag. #PowerOfTheFirstLady takes up a grand total of 20 characters. That's about 15 percent of a 140-character tweet, so it definitely limits what you can put in the rest of the tweet.
The "power" indicates it's about the power a first lady has. First ladies, historically, don't have all that much power relative to the president, aside from cultural influence.
They can do more if they choose to, like Hillary Clinton pushing a healthcare bill as first lady (it failed) or Michelle Obama's incredible work on healthy eating for children.
Melania hasn't even had a month yet as first lady (I know, it feels like years to me, too) so she hasn't had much time to settle into the position.
Her power, specifically, has been appearing at the inauguration and events at Mar-a-Lago in Palm Beach, Florida, as well as meeting with the wives of foreign leaders.
Trump is supposed to be moving into the White House from New York after her son, Barron, finishes out his school year.
From there, I suppose, we'll see what more Melania believes the #PowerOfTheFirstLady to entail.
Citations: People have a lot of questions about Melania Trump's confusing new hashtag (Indy100)