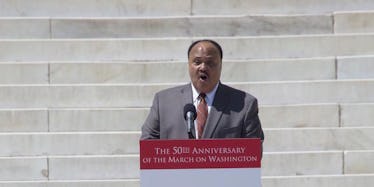 Why Martin Luther King Jr.'s Son Believes Millennials Are America's Greatest Hope
Getty Images
Martin Luther King III is definitely his father's son. He's articulate, humble, amiable and knowledgeable. It's evident that he has a deep concern for the world around him, and he's a fervent advocate for fairness and common sense. He has a warm disposition and is exceptionally approachable.
In a recent interview with Elite Daily, Mr. King discussed everything from the voting system to Ferguson to concerns over corporate influence in American politics. He jumped from topic to topic with effortless authority.
Speaking with the eldest son of Dr. Martin Luther King, Jr. is somewhat surreal, but his genuine candor immediately puts one at ease. Throughout the conversation, he placed particular emphasis on the need for Millennials to step forward and begin assuming leadership roles. He stated:
The reality is, what we need to do in our society is to get more young people engaged in the political process. It takes young people to lead the way. Older people may have wisdom and advice... But it's the energy of young people that brings about the necessary changes in society.
It was evident that Mr. King understands how discouraging the current state of affairs must be for young people. Particularly in terms of the deeply-polarized nature of our present political culture. Yet, despite the many challenges that lie before us, MLK III has not given up hope on this country or its people.
Let's Make Voting Easier
Recently, MLK III has been working with Why Tuesday?, a non-profit organization dedicated to addressing our broken voting system. Mr. King has had a close personal relationship with the organization's cofounder, Bill Wachtel, since they were children. Wachtel's father, Harry Wachtel, was a lawyer and advisor for MLK III's father during the Civil Rights Movement.
Mr. King explained the philosophy behind the organization:
The concept, largely, is to raise the question: Why do we vote on Tuesdays? Does it really give the most number of persons an opportunity to vote? And the answer to that is no.
Indeed, the reason we vote in Tuesday is, quite frankly, very stupid.
It's all because of a law passed in 1845, when America was still an agrarian society. Back then, Tuesday was a convenient day of the week for voting. It didn't conflict with days of worship, or market day.
Today, however, it's an incredibly inconvenient day for people across the nation, and it's a large part of the reason many Americans don't vote. During the week, people have jobs, long commutes and families to attend to.
The United States is the world's most renowned democracy, but it has one of the lowest voter turnout rates in the world. Out of 172 nations, America ranks 138th in terms of voter turnout.
Hence, there are number of things we could do to make voting easier, such as making weekend voting available. Likewise, if we made voting day a national holiday, for example, people wouldn't have to worry about missing work in order to vote. Moreover, in this day and age, it's a bit absurd that we aren't able to vote online. Our political system should adjust to the digital world we now live in.
Voting should be easy and accessible to all people. At the moment, however, the antiquated and tedious system is preventing a large portion of the population from exercising their most fundamental right as citizens. We need to change this. This is precisely what Why Tuesday? wants to do.
"A Voteless People Is A Powerless People"
Regardless of the inadequacies of the current system, however, Mr. King still believes in the importance of voting.
Accordingly, on Sunday November 2, he joined Why Tuesday? and The Roots for a concert meant to spread the word about this vital issue. The concert was part of the organization's ongoing "Let's Fix It" campaign, which aims to pressure Congress to make the voting process more practical in order to increase voter turnout.
Elite Daily was in attendance, and prior to the start of the show, MLK III recalled the words of his father while addressing the audience:
My father used to say that a voteless people is a powerless people, and one of the most important steps we can take is that short step to the ballot box.
During the Civil Rights Movement individuals like Martin Luther King, Jr. fought hard to ensure that the voting rights of all people, particularly minorities, were upheld. This led to the passage of the Voting Rights Act of 1965.
We must continue this fight, in order to make certain that the voices and values of all Americans are heard during each and every election. This is what defines a true democracy.
We Have A Long Way To Go As A Society
Beyond the voting system, Mr. King has a number of other trepidations with the current state of American society, many of which are derived from the concerns of his parents. He noted:
My Dad and Mom believed that there were something that they called 'triple evils' that could be eradicated in their lives. The evils of poverty, racism and the evil of militarism and violence. If we look at all of those, we've made strides surrounding race. We're not there yet, but we've made great strides. But poverty, militarism and violence seemed to have increased.
In Mr. King's eyes, it's absolutely unacceptable that millions of people in the United States are living in poverty.
Moreover, while he does believe we've made progress surrounding race, he spoke on the fact that the American criminal justice system is inherently unfavorable towards racial minorities.
Thus, racism and discrimination are still very real aspects of our society. MLK III highlighted Ferguson and even Bill Maher's recent comments surrounding Islam as further evidence of this.
Concurrently, Mr. King believes we need to make greater efforts to educate people about diversity, human relations and fairness. Likewise, he said:
We've got a lot of work to do to create a system that is more fair, just and equal. ...My view is that we've made minimum progress, not significant progress. In theory, we as a society should be much further along.
He did add, however, that we have to be patient, in the sense that change doesn't happen overnight. Progress is a slow and complex endeavor.
Millennials Give MLK III Hope For America
Martin Luther King III has no illusions about the challenges we face as a society, particularly in terms of how they impact young people. He mentioned in particular the astounding situation surrounding student loan debt, urging Millennials to vote for politicians who are working toward making education more affordable and accessible.
Likewise, MLK III understands that many young people have been disturbed by the ongoing events in Ferguson, Missouri. It's 2014, but we are still dealing with the abhorrent legacies of slavery and Jim Crow. This is yet another reason he hopes Millennials will become more politically active.
Unfortunately, he contended, racism and discrimination are still deeply-embedded aspects of our society. This is precisely why Mr. King hopes this generation will become more politically engaged, as he puts it:
Millennials believe in fairness and justice and equality.
Hence, none of us can afford to sit on the sidelines, "When you see wrong, then you have to be willing to step in," he stated. Part of the way we do this is by electing officials who support sensible legislation that helps foster a more fair and just society. "It really does start with the political process," Mr. King stated.
Simultaneously, he hopes that Millennials will begin pursuing positions of leadership.
I think we'll get more young people participating [voting] if more young people are offering themselves for public office… I understand why one doesn't want to get into it… Who wants the scrutiny, who wants the hassle? Well somebody's gotta step up… We need younger people to lead the way.
Accordingly, the energy and openness of young people gives MLK III hope that the United States can move forward in this world. In particular, Mr. King is inspired by the entrepreneurship and innovative spirit of Millennials.
"The Best Is Yet To Come"
Despite MLK III's evident concerns surrounding the current state of affairs in the United States, it's apparent that he's still optimistic about the future of this country.
When asked if he had one last piece of advice for America's young people, Mr. King smiled and spoke on the way in which his parents taught him to have a deep love for his community. He urged young people to use the immeasurable means of communication they have at their disposal to establish a unified message in defense of the world's most vulnerable people.
In his eyes, the future looks very bright, and there is no reason for overwhelming despair.
I have great for hope this generation and generations yet unborn. It only takes a few good men and women to bring about change... I know that the best is yet to come.
Martin Luther King, Jr. will forever stand as a testament to the notion that it only takes "a few good men and women to bring about change." His son is carrying on his legacy, but Millennials must join him in this endeavor.
There is no such thing as a perfect society. There will always be injustice and inequality. Yet, this is no excuse for inaction.
In one of the most famous speeches in American history, Mr. King's father stated:
It would be fatal for the nation to overlook the urgency of the moment. ...Let us not wallow in the valley of despair. I say to you today my friends -- so even though we face the difficulties of today and tomorrow, I still have a dream. It is a dream deeply rooted in the American dream. I have a dream that one day this nation will rise up and live out the true meaning of its creed: 'We hold these truths to be self-evident, that all men are created equal.'
The United States is much more than a country; it's an idea, a notion, a dream. Like Martin Luther King, Jr. and his son, we cannot rest until that dream becomes a reality.