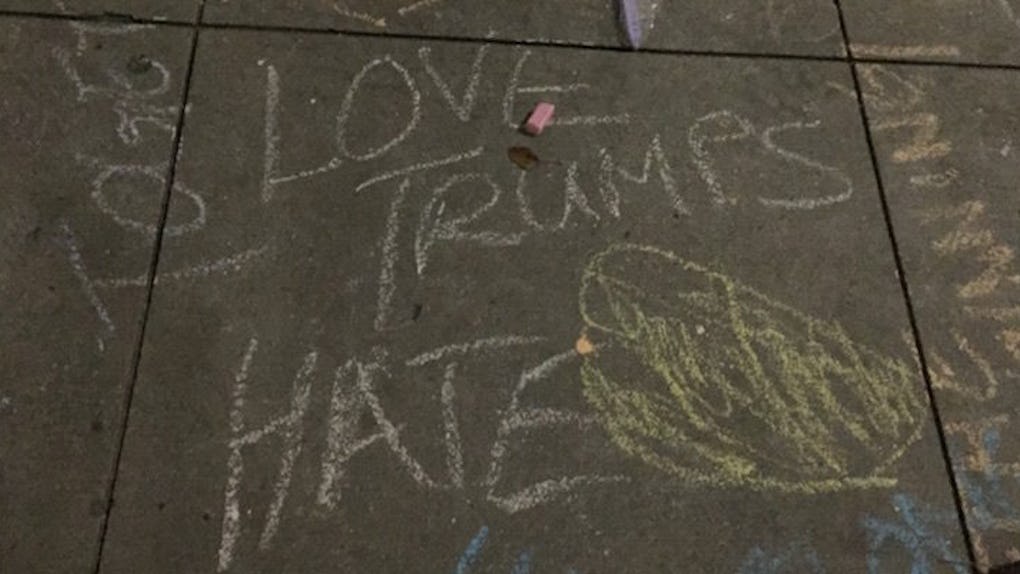 Jenna Lowenstein
Kids Left Chalk Messages Outside Hillary's Campaign HQ
New York City was devastated when Hillary Clinton did not succeed in becoming the president-elect.
When Donald Trump won the 2016 presidential election, residents of the Big Apple mourned, peacefully protested and bonded together with hopes of initiating change.
On Thursday night, children joined the movement. They wrote an array of "thank you" messages in chalk on the sidewalk outside Hillary Clinton's campaign headquarters in Brooklyn... and the messages they left will make you sob.
Kids of all ages joined their families and wrote hopeful notes, saying things like "Love Trumps Hate" and "Black Lives Matter," surrounded by scribbled hearts of all colors and sizes.
The chalk message that brought a tear to my eye (again) was this one:
"Hillary is loved."
They're right.
Hillary Clinton is loved. Love does trump hate. Black lives do matter.
Maybe – just maybe – the nation should take a lesson from these children and their loving messages to Hillary.
When a young generation shows this much hope and compassion, the future might not be as dismal as we think.
"Thank you, Hillary!"
"Keep up the good work."
"We love Hillary."
"Still with her."
"BLACK LIVES MATTER."
"LOVE TRUMPS HATE."
I don't think kids received the attention they deserve throughout this election. They have voices, they have opinions and they have compassion.
But most importantly, they have common sense.
Some children even joined the movement at the post-election protest in Manhattan on Wednesday night.
They didn't show hate, and they didn't show anger. They only showed peace.
These children aren't able to vote yet. But by the looks of things, we know exactly who they would've sided with.
If your heart isn't already filled with joy from the messages left by these young ones, check out these "love notes to America" people have been lining the walls of the NYC subways with in Union Square.
I love New York.