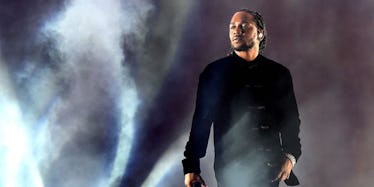 Kendrick Lamar's Portrait Is Heading To The Capitol, So We Gon' Be Alright
Twitter
Kendrick Lamar's portrait will soon hang in the US Capitol, giving Congress at least one redeemable quality.
This is thanks to the Congressional Art Competition, an annual contest for high school students.
Tiona Cordova, a senior at Centennial High School in Pueblo, Colorado, won the the contest in her congressional district with her portrait of Lamar, which is well deserved.
Lamar has been to the White House before, after being invited by former President Barack Obama.
It's probably safe to say the rapper will not receive such an invitation of President Donald Trump, who seems to prefer the company of people like Kid Rock and Ted Nugent.
But, for the next year, Lamar will occupy the US Capitol building (in portrait form).
Cordova's representative, Rep. Scott Tipton, gave her a shoutout on Twitter.
Over the past few years, Lamar has become the indisputable king of hip-hop. Many would likely agree he's the best rapper alive.
Lamar's music, which deals with an array of issues, is wildly popular and he's become a major influencer for young people.
His songs, which often touch on social justice topics, including police brutality, have even been used to teach high school students.
Lamar's most recent album, "DAMN," and sold 353,000 traditional copies in the first week alone. Songs from the album have been streamed on Spotify hundreds of millions of times.
"Humble" remains the most popular song and has been streamed over 217 million times.
The album was released on April 14, 2017, had the biggest debut of the year, and quickly rose to number one on Billboard's album chart. It remained there for three weeks and now sits at number three.
The rapper will visit Washington, DC in July as part of his tour for the album, and he could potentially take some time to go visit his portrait.
Maybe he could rap some sense into Congress while he's at it.
Citations: Kendrick Lamar in the U.S. Capitol will teach Congress to sit down and be humble (Mashable)