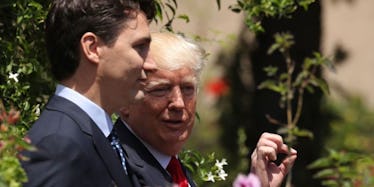 Justin Trudeau Wishes Muslims Happy Eid While Trump Tweets About Clinton
Sean Gallup / Getty Images
This weekend marks an important holiday for Muslims worldwide, and even those outside the faith went out of their way to wish believers well. Via Twitter on Thursday, Aug. 31, for example, Canadian Prime Minister Justin Trudeau wished Muslims a happy Eid-al-Adha. By contrast, his neighbor to the south, President Donald Trump, focused his tweets on a longstanding obsession with Hillary Clinton.
Eid-al-Adha is one of the most important Islamic holidays, coinciding with hajj, or pilgrimage. The multi-day festival is also known as "Feast of the Sacrifice" and traditionally involves sacrificing an animal. Pew Research estimates there are about 1.8 billion Muslims in the world, 3.35 million of whom live in the U.S. Muslims represent about 1 percent of the American population, and that ratio is expected to double by 2050.
While Trudeau made the time to let Muslims know he was thinking of them on this special day, Trump seemed concerned with other things. A sampling of the content of his tweets: the success of his administration (which has seen more changeover in eight months than his predecessor's in tenfold the time), the performance of hurricane responders, and the woman who ran against him in a campaign that he won almost 10 months ago. As of 10 a.m. ET, Trump had still been radio silent on Eid via Twitter, and no formal statements or releases were made by the White House.
So continues the trend of Trudeau out-classing Trump and generally showing him how respectful and inclusive leadership is done. Back in June, the Canadian leader also earned praise for wearing "Eid Mubarak" socks at a Pride Parade. But let's be honest -- the bar to out-do Trump wasn't set very high, as the president all but failed to acknowledge the LGBTQ+ community for an entire four weeks. In fact, he had time to tweet about dozens of things other than Pride. Coincidentally, Trump also broke the decades-long White House tradition of celebrating Ramadan.
In the U.S. and Canada alike, Muslims are among those most vulnerable to discrimination. In the last ten months, the rate of hate crimes against Muslims in the U.S. skyrocketed, an advocacy group found. In January, six people died at a shooting at a mosque in Quebec; in response, Trudeau grieved alongside Muslim community members at the funeral. Trump's silence at this time speaks volumes, as it always does.
It wasn't just Trudeau who made Trump's silence more obvious. Many more foreign leaders around the world played it classy and acknowledged the holiday, including UK Prime Minister Theresa May.
On home soil, multiple Congress members made a point of highlighting the holy day.
Rep. Keith Ellison was joined in wishing Muslims a happy Eid via Twitter by his colleagues in the House Rep. Barbara Comstock, Rep. Yvette D. Clarke, and Rep. Don Beyer. On the Senate side, Debbie Stabenow took the time to tweet a message.
While millions of Muslims worldwide -- including those on Canadian and American soil -- celebrate the important holiday, Trudeau's nod to Eid is what inclusive leadership looks like.