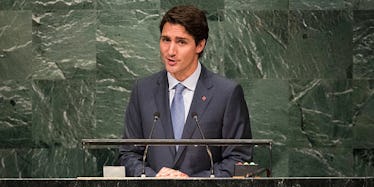 Justin Trudeau Was Twitter's Woke Bae Crush From The Toronto Pride Parade
Drew Angerer/Getty Images
Canadian Prime Minister Justin Trudeau marched in Toronto's Pride Parade on Sunday, June 25, because he just wanted to rub it in, I guess.
Trudeau has been widely acknowledged as the woke bae of world leaders, giving that he stormed onto the global scene talking about equality as something that should be the norm, not the argument.
It also helps that he looks like a goddamn movie star. I mean, for real, this guy's like the caricature of the Good Guy Politician in every superhero movie you've ever seen.
So Trudeau walked in Toronto Pride, because of course Trudeau walked in Toronto Pride.
"We celebrate the multiple layers of identities that make Canada extraordinary and strong," Trudeau said, "and today we celebrate with the entire LGBTQ+ community."
But Trudeau didn't just acknowledge LGBTQ+ rights at Toronto Pride. That would've been too easy.
Sunday also marked Eid al-Fitr, the Muslim holiday celebrating the end of Ramadan.
Of course — of course — Trudeau was cool about that, too. The prime minister showed up at Pride wearing socks that read "Eid Mubarak," the traditional greeting for Eid.
Doesn't get much more woke bae than Trudeau high-fiving a girl in a Wonder Woman costume while wearing Eid socks at the Pride Parade.
Yup. That happened.
Let's just go ahead and take a moment to look through some footage of Trudeau at Toronto Pride.
Do you need a minute to recover?
OK, take a deep breath.
In and out. We'll get through this together.
Ready to dive back in?
Here we go!
The people of Twitter felt some things at the sight of Trudeau at Pride in his Eid socks.
Those Pride participators lucky enough to see Trudeau in person were even more giddy.
This is the second time Trudeau has marched in Toronto's Pride Parade as prime minister. I'm just waiting to see what socks he wears next year.