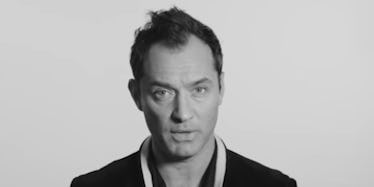 Jude Law And Other Celebs Tell Emotional Story Of Syrian Refugee In Powerful Vid
YouTube
The war in Syria, which began in 2011, has claimed hundreds of thousands of lives and displaced millions of people, including many children.
The numbers surrounding this conflict can be daunting, and it's difficult to grasp what life is now like for individual Syrians when viewing the war on such a macro scale.
This is precisely why a group of celebrities -- Jude Law, Nicole Scherzinger, Carey Mulligan, Michael McIntyre, Mumford and Sons' Marcus Mumford, Sam Smith and James Bay -- came together to tell the story of Fatima, a 17-year-old Syrian girl.
Like so many Syrians, Fatima was separated from members of her family and forced to flee her country because of the ongoing war.
Eventually, after making it to Jordan, she learned her brother Omar was killed.
In the video, the participating celebrities told this deeply sad, but also inspiring, story.
This video was done in conjunction with War Child UK, an organization dedicated to highlighting the struggles and needs of children impacted by conflicts in Syria and Yemen, especially in relation to education.
Right now, there are over 65 million forcibly displaced worldwide, and around 21.3 million refugees in total, according to the UNHCR.
There are around 4.9 million refugees from Syria alone, and many of them are children.
Roughly three-quarters of Syrian refugees are women and children, and approximately a third of all Syrian refugees are children under 12.
This is why stories like Fatima's are so important.
These children are being robbed of their youth by war, which is perhaps the most tragic aspect of violent conflict.
At the end of the video, Fatima comes on the screen and says,
We only ask you for one thing. Try to end the war soon for us because we are tired.
Learn more about War Child UK  below.
Citations: Celebrities help give a voice to Syrian children affected by civil war (Mashable)