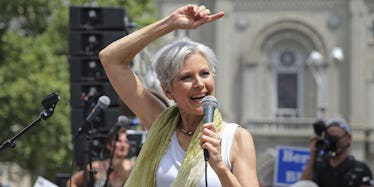 Green Party Presidential Nominee Jill Stein Has A Warrant Out For Her Arrest
REUTERS
On Wednesday, arrest warrants were issued for Green Party Presidential Candidate Dr. Jill Stein and her running mate, Ajamu Baraka, in Morton County, North Dakota,
They were charged with misdemeanor counts of criminal trespass and criminal mischief for spray-painting construction equipment at a protest over the controversial Dakota Access pipeline on Tuesday, USA Today reports.
The Green Party presidential candidate was reportedly among roughly 200 other protestors, and activists asked her to leave a message at the site. She responded by spray-painting, "I approve this message," on the blade of a bulldozer.
Stein tweeted an image of this on Wednesday afternoon.
There is also video of Stein spray-painting the bulldozer.
It appears Stein doesn't regret her decision whatsoever.
In a statement, Stein said,
I hope the North Dakota authorities press charges against the real vandalism taking place at the Standing Rock Sioux reservation: the bulldozing of sacred burial sites and the unleashing of vicious attack dogs. I hope they take action against the Dakota Access Pipeline company that is endangering drinking water not only for the Standing Rock Sioux, but for millions of people downstream of the reservation who depend on the Missouri River. The pipeline will carry up to 570,000 barrels of highly polluting Bakken crude oil per day. This would be another deadly blow to a climate teetering on the brink. It cannot be allowed to go forward. Our campaign supports the courageous Indigenous leaders who are taking a stand to protect future generations from the deadly greed of the fossil fuel industry. We approve of their vision and courage.
The proposed 1,168-mile-long Dakota Access Pipeline, which has a $3.7 billion price-tag, would transport crude oil from North Dakota to Illinois.
But the Standing Rock Sioux Tribe is trying to halt the construction of the pipeline. The Standing Rock Sioux Tribe filed a complaint in federal court that states,
The construction and operation of the pipeline... threatens the Tribe's environmental and economic well-being, and would damage and destroy sites of great historic, religious and cultural significance to the Tribe.
In addition to trepidations over the pipeline disturbing sacred sites, there are concerns it could pose a danger to the tribe's drinking water supply.
Protests over the weekend against the pipeline turned violent when attack dogs were used against protestors.
Subsequently, on Tuesday, US District Judge James Boasberg partially halted construction on the pipeline and is set to come to a more comprehensive decision on Friday.
The pipeline has become a major issue of concern for Native Americans and environmental activists alike.
Many public figures and celebrities have expressed their support for those who are protesting against it.
This entire story seems to be adding to the already shameful narrative of the mistreatment and neglect of Native Americans in the US. Sadly, however, there hasn't been a lot of coverage of this from major media outlets.
Citations: Stein charged with mischief, trespassing after environmental protest (CNN)