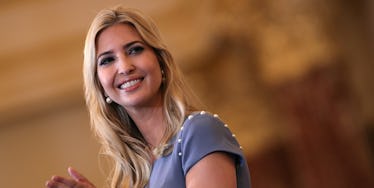 Ivanka Trump's Tribute To Victims Of Barcelona Terror Attack Has Twitter Torn
Win McNamee/Getty Images
On Friday, Aug. 18, White House advisor and First Daughter Ivanka Trump took to social media to post a tribute to victims of terror attacks in Barcelona. Not everyone was impressed, however. A number of users responded via tweets about Ivanka Trump's Instagram for Barcelona, showing differing reactions to her tribute.
Trump wrote,
Deeply saddened by the ongoing acts of terrorism across the globe. Terror anywhere imperils freedom everywhere. My thoughts and prayers are with the #Barcelona victims and their families.
Trump's comments came a day after two separate attacks in Barcelona left 14 people dead. One of those attacks featured a white van ramming into a crowd of people at the famous tourist destination of Las Ramblas. That particular attacked resulted in 100 injuries, along with 13 deaths, according to CNN.
The other attack saw five men drive an Audi sedan onto a boardwalk in the resort town of Cambrils. That attack left one woman dead and five others injured, according to the LA Times.
Four people have since been arrested in relation to the attacks, while people from at least 34 countries are counted among those injured, CNN reports.
On Friday, Trump posted her tribute with this photo:
In contrast, Ivanka delivered a much more straightforward tribute to Barcelona than her father, President Donald Trump. On Thursday, Trump's response to Barcelona drew criticism when he urged his Twitter followers to "study" a story about Gen. John J. Pershing that has widely been dismissed by historians.
Despite Ivanka Trump's response being comparatively tame, her tribute to Barcelona still drew mixed reactions.
Some users thanked Trump for her gesture.
Other's criticized her remarks for reasons including a lack of mention for Charlottesville protest victims.
Contrary to the criticism, however, Ivanka Trump did in fact offer a very clear condemnation in response to the white supremacist demonstrations in Charlottesville.
Similarly, she's come out on Friday to respond to another tragic event, this time in Barcelona.