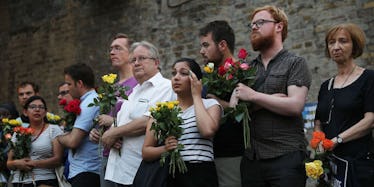 Ivanka Trump Responds To London Mosque Attack While Donald Stays Silent
Dan Kitwood/Getty Images
Ivanka Trump sent out a tweet on Monday, June 19, recognizing the victims of an attack at a mosque in London. The president, on the other hand, has remained quiet.
President Donald Trump is seldom silent, so when he is, it matters.
The president is having a particularly quiet day on Twitter. He has tweeted only once so far on Monday, and as of publication, has not yet tweeted about the terrorist attack in London early Monday where one person died and eight were injured.
In that attack, a man drove a van into a crowd that was leaving a mosque in Finsbury Park after midnight prayers for Ramadan.
His silence is part of a larger pattern. He hasn't spoken about Pride so far this month, and Monday's lack of response comes on the heels of criticism for the very same following the murder of a Muslim teen in Virginia.
The killing of the Virginia teenager was reported in The Washington Post Sunday morning, and while Trump has yet to post about that, he did tweet that afternoon about his time spent at Camp David:
Though her father has yet to express any sympathy or concerns, Ivanka posted about the London attack on Twitter.
She said she is sending "love and prayers to the victims" and called for people to "stand united against hatred and extremism in all its ugly forms."
Trump's silence on the London attack, following the Virginia killing of Nabra Hassanen, is particularly controversial given the attention surrounding a "double-standard" in how the event was labeled and covered in the media. Despite it being treated as a terrorist attack, public outcry has been arguably quieter than for other recent attacks.
The administration, while so far silent, has made statements on other attacks earlier this month. Trump's team releases a statement following the shooting at the Congressional baseball practice last Wednesday, the Iran attack, and Egypt attacks earlier this month.
While the hours tick by, many are calling for a response from the President on Monday's event on social media.
White House Press Secretary Sean Spicer said "our thoughts and prayers go out to the victims and their families," during a press briefing on Monday.
The president himself, however, has yet to express those feelings.