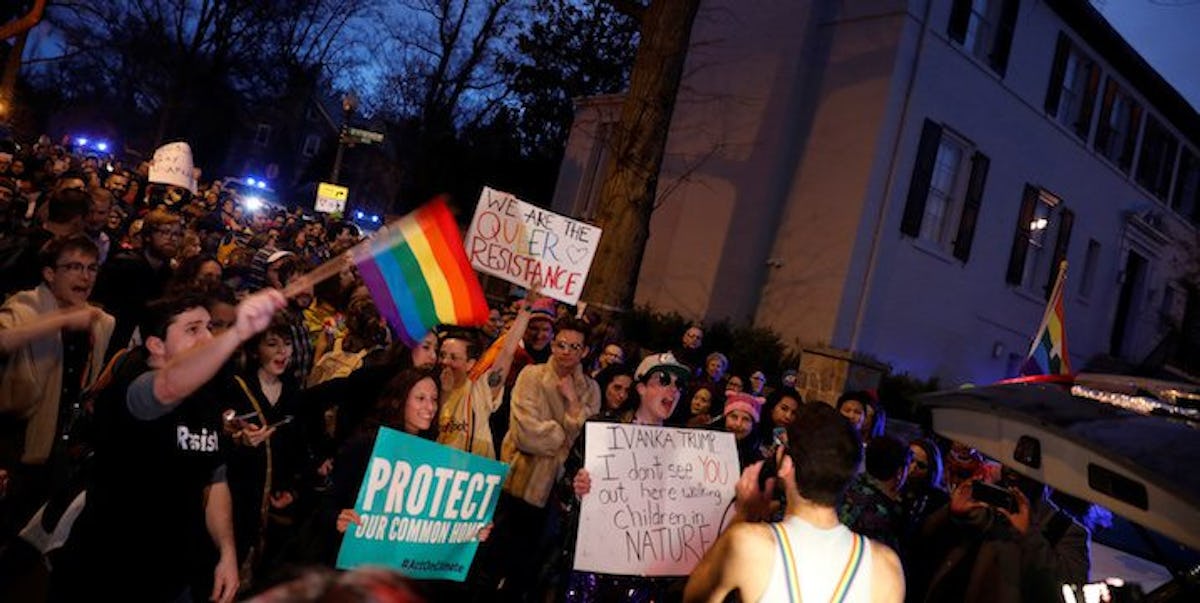 Ivanka's Neighbor Cackling And Sipping Wine At Anti-Trump Protest Is All Of Us
REUTERS
Hundreds of LGBTQ protesters swarmed Ivanka Trump's house on Saturday evening for a very energetic dance party.
Traditionally, it's fair to argue the children of the president should be left alone. They are not responsible for the politics and policies of their parents, and definitely shouldn't be held accountable in this regard.
But, given that Ivanka Trump has played an intricate role in the Trump administration from the beginning, and is now officially a federal employee, the circumstances are definitely different.
Ivanka and her husband, Jared Kushner, who is senior adviser to the president, live in the Kalorama neighborhood of Washington DC.
Their new neighbors aren't huge fans of them living there because of the constant presence of Secret Service, which has made parking places, already a hot commodity in DC, few and far between.
So, when hundreds of protesters descended upon Ivanka's home on Saturday, some of the neighbors seemed pretty amused.
One fabulous woman cheerfully stood outside in her fur coat, sipping what appeared to be white wine, with the most satisfied look on her face.
It honestly appeared as if she had finally found inner peace as she watched the gay dance party that was transpiring outside of the president's daughter's home.
And who can blame her? That sounds amazing.
This lady is all of us. A true American hero.
Fur-coat-clad, wine-drinking neighbor lady just might have a higher approval rating than President Donald Trump right now.
She's a big hit, for obvious reasons.
But, unlike our fur-coated heroine, not all of the neighbors were pumped about this anti-Trump protest.
An elderly white man came out and yelled at the protesters.
Who would have thought an old white dude wouldn't approve of a gay dance party protest on his street?
Every party has a pooper.